There are many who still believe that proper women's golf attire should consist of khaki shorts that reach below the knee and a polo top. I'm tired of that stereotypical way of playing golf. Ladies, it's time to throw that outdated idea and say hello to a new way women can wear golf apparel.
Women's golf attire should be comfortable, chic, and fitted. However, there are rules at many golf clubs regarding proper golf attire for women.
I'll explain what is appropriate, what may be questionable, and what should not be worn under any circumstances on the golf course.
What are the Rules for Proper Women's Golf Attire?
Each golf club varies on their rules and many, if not all, have dress codes you must adhere to. If you don't properly prepare, the golf club may very well turn you away when you show up to play a round of golf in a tank top or denim shorts.
Typically, golf courses that are more expensive with a higher exclusivity will have a stricter policy on what you can and cannot wear. Some golf clubs don't even let you wear shorts!
If you're a laid back golfer who does not want to spend a load of money on fancy golf clothes, your safest bet is playing on a municipal golf course. They tend to be laid-back about what you wear, and there are many who don't have any golf apparel rules at all.
If you are completely in the dark about what is considered a proper golf outfit, you should call the golf course you are planning to play at.
Two reasons to do this: to make sure you don't drive 30 minutes to the course just to be denied, and it shows them that you care and respect their rules, which will probably give you some brownie points.
Tips on Women's Golf Attire
What you wear on the golf course comes down to where you're playing. Here is a general idea of what is considered proper women's golf attire.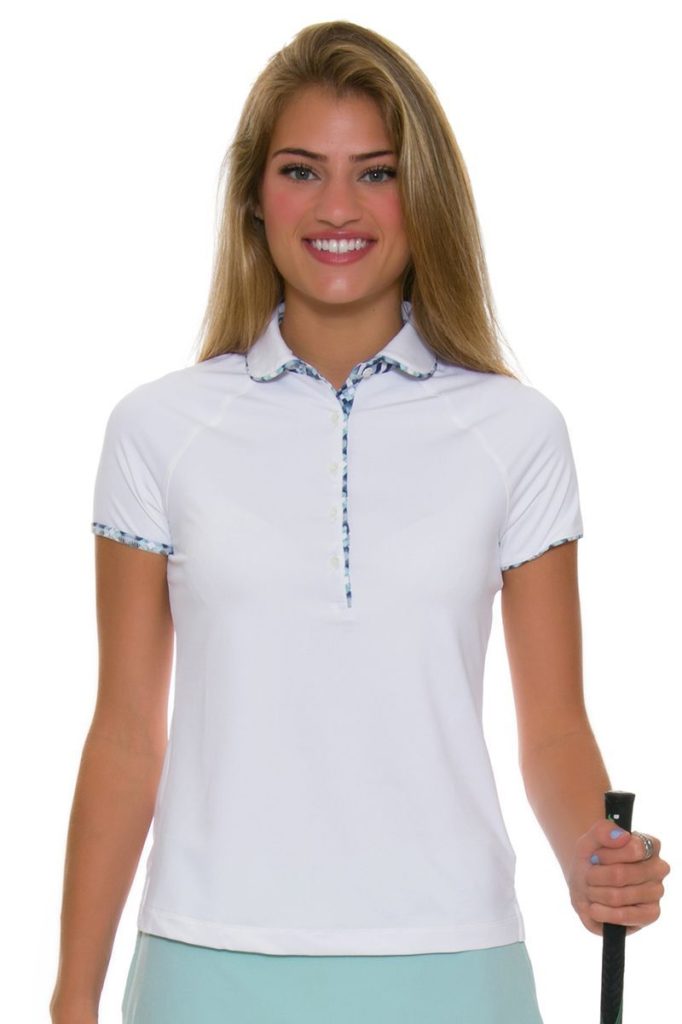 The general rules on women's golf tops at golf courses are polo-style shirts, turtleneck and crew-neck tops. However, T-shirts, halter tops, tank tops, strapless tops, drawstrings, and similar types are considered inappropriate.
Although that's still a traditional choice that you may like, there are modern & chic golf apparel options available to us now that are still appropriate.
One recommendation is checking out Jofit golf apparel. They carry a variety of women's golf tops in styles that are fashionable and flow seamlessly both on and off the course. For the summer months, they offer bold sleeveless tops.
Many of these tops feature a front zipper that allows you to adjust your neckline. This may be an acceptable option that gives a little more fashion to your golf wardrobe.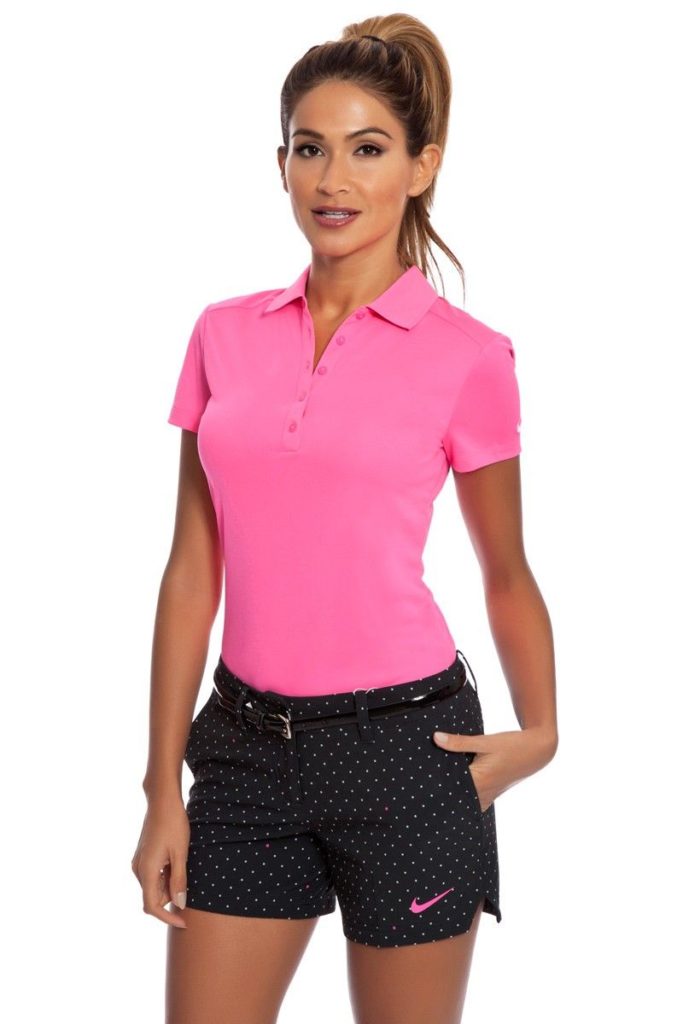 No women's golf attire is complete without the right bottoms! It's common to see women golfers in slacks, shorts or skorts.
The standard apparel rules at golf courses for bottoms ban clothing options like jeans, sweatpants, and athletic pants. Whether it's capris, cropped pants, shorts, or skorts, there's plenty of playful bottom options for every woman.
If you choose to wear a skort or shorts, be mindful of the length – many golf clubs want them to hit your knees. Although, remember, times are changing, and I have worn dresses and skorts that are above my knee (but not TOO much).
I'm a slim woman, so I feel awful and ugly in shorts that are too large to even fit my waste. I've never been denied at a golf club for wearing those items, so maybe things really are progressing in the golf world!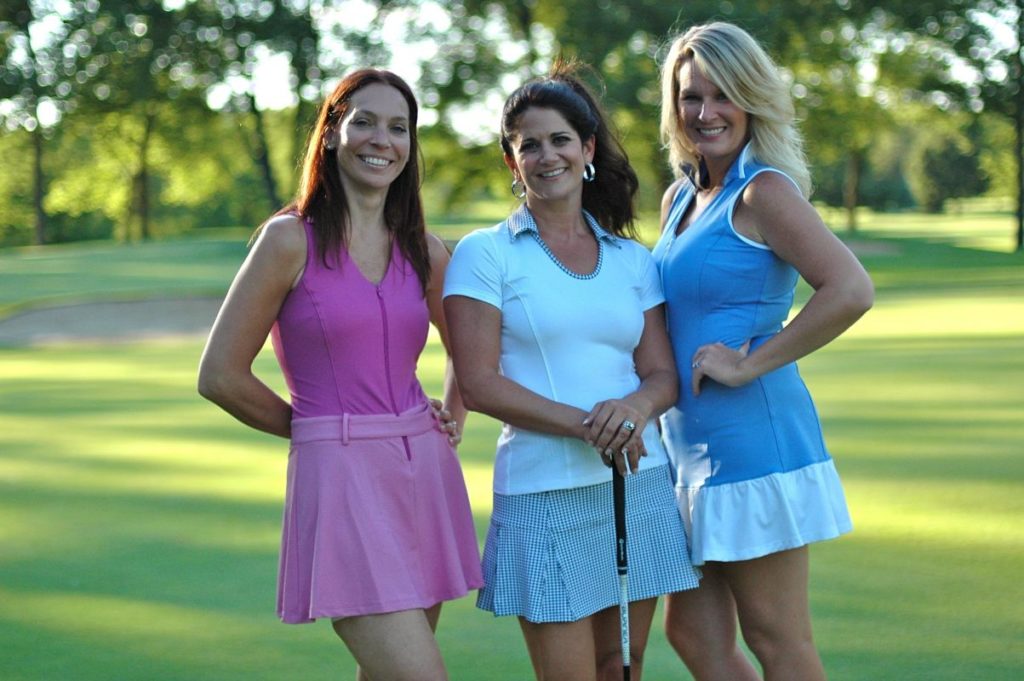 Recently, I've seen some younger girls rock the golf dresses from Nike and Adidas. Very cute, but may be questionable to some golf courses, depending on the length.
Since it's a very popular attire, most golf courses allow women to wear this outfit and it's a great choice for those who are looking for a chic, more feminine look.
However, sun dresses and other similar types of dresses are considered inappropriate and unacceptable on most golf courses.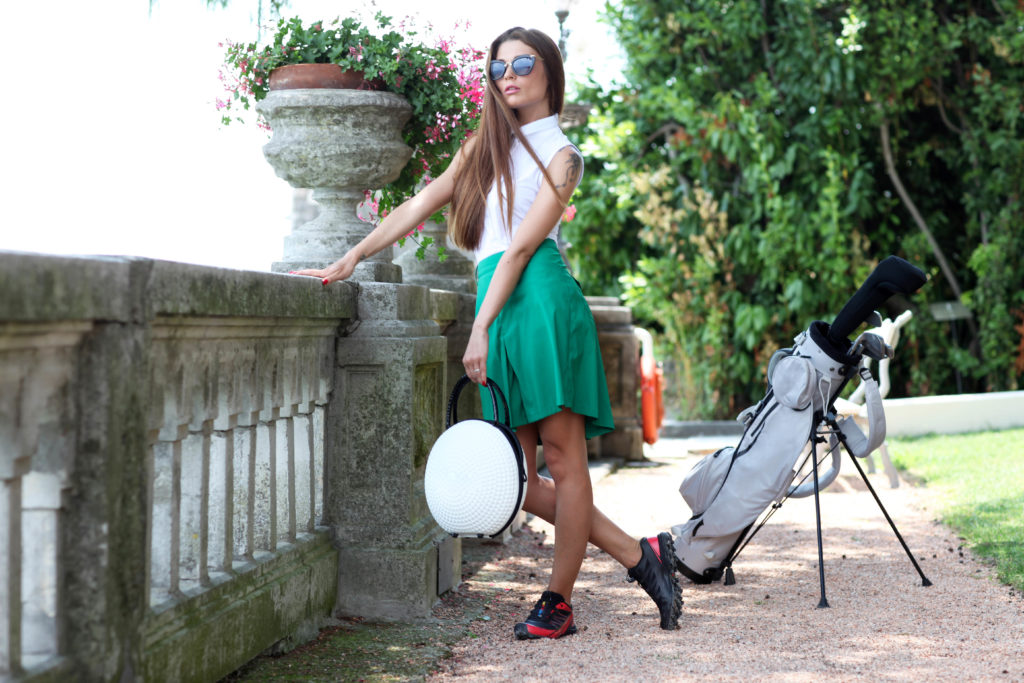 Women's Golf Accessories is the most fun part of any woman's wardrobe.
When it comes to accessorizing your golf look, you can find hats and visors in a variety of colors and prints, making it easy to find one that suits your look.
In addition to hats and visors, you can add a pop of color to your golf attire with a pink headcover, shoes or belt!
These functional accessories make it easy to create a stylish look and most golf courses don't look down upon your accessories.
The Deep Divide Between Men and Women's Golf Apparel Rules
The professional golf world has become increasingly progressive when it comes to allowing their players to make fashion statements in an effort to modernize the sport and appeal to millennial's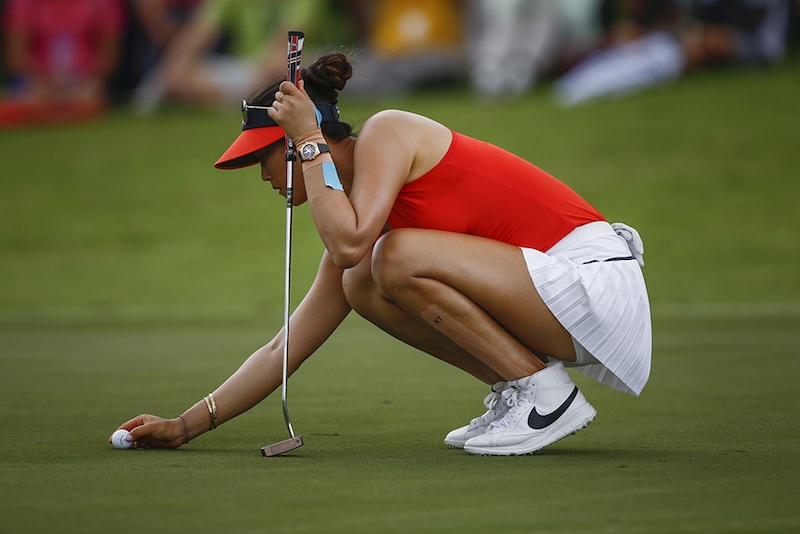 and junior golfers.
Rickie Fowler regularly sports the joggers with high tops; Nike started making polos without collars, and the European Tour allows its golfers to wear shorts during practice rounds.
Yet the LPGA is attempted to turn back to its traditional roots by issuing a stricter dress code.
On July 2, 2017, LPGA President Vicki Goetze-Ackerman sent an email to the LPGA players, telling them that starting July 17, there'd be some new rules on dress code.
Plunging necklines, NO. Leggings, NO. Workout gear and jeans, NO. Joggers, NO. How about those chic racerback-style tops, like Michelle Wie has been wearing? NOT HAPPENING.
But, if Rickie Fowler can rock joggers and high top sneakers on tour, why is it any different for females?
Although it's important to follow the rules of the golf courses, t's time to continue progressing towards a new way of women's golf apparel and style.
Hopefully, in the coming years, golf clubs will be a little more lenient towards women. I'm not asking to wear a crop top to the course, but the conservative outlook needs to change.
Complete your women's golf attire wardrobe with these guidelines and check out some high-end luxury women's golf apparel clothes & brands.