A Nine Iron and a Bulletproof Vest
Martha Burk donned a bulletproof vest and marched through a muddy field past a mass of male protesters who were hurling rocks, honking horns and hollering for "Hootie" to halt the march of history and keep women out of the Masters and the golf world in its entirety– for good.
Confined by a sheriff's directive, with promises of arrest if they moved, Burk and her crew of more than over 100 protesters were forced to demonstrate on a muddy field far from Augusta's gated entrance and surrounded by more police officers than supporters.
Police were scanning the area at all times, yelling at any cars that stopped and shouted threats from across the street. Some wouldn't listen and some got out of their cars and threw garbage and rocks at her along with the hundreds of other protesters at the site. The police made some arrests and fined several people that day. Not surprisingly, they were all men.
Far or near from the protest site, anyone would be able to see the large inflated pig with the logos of the tournament sponsors, whose main executives are or were members of Augusta National– including IBM, General Electric and Microsoft.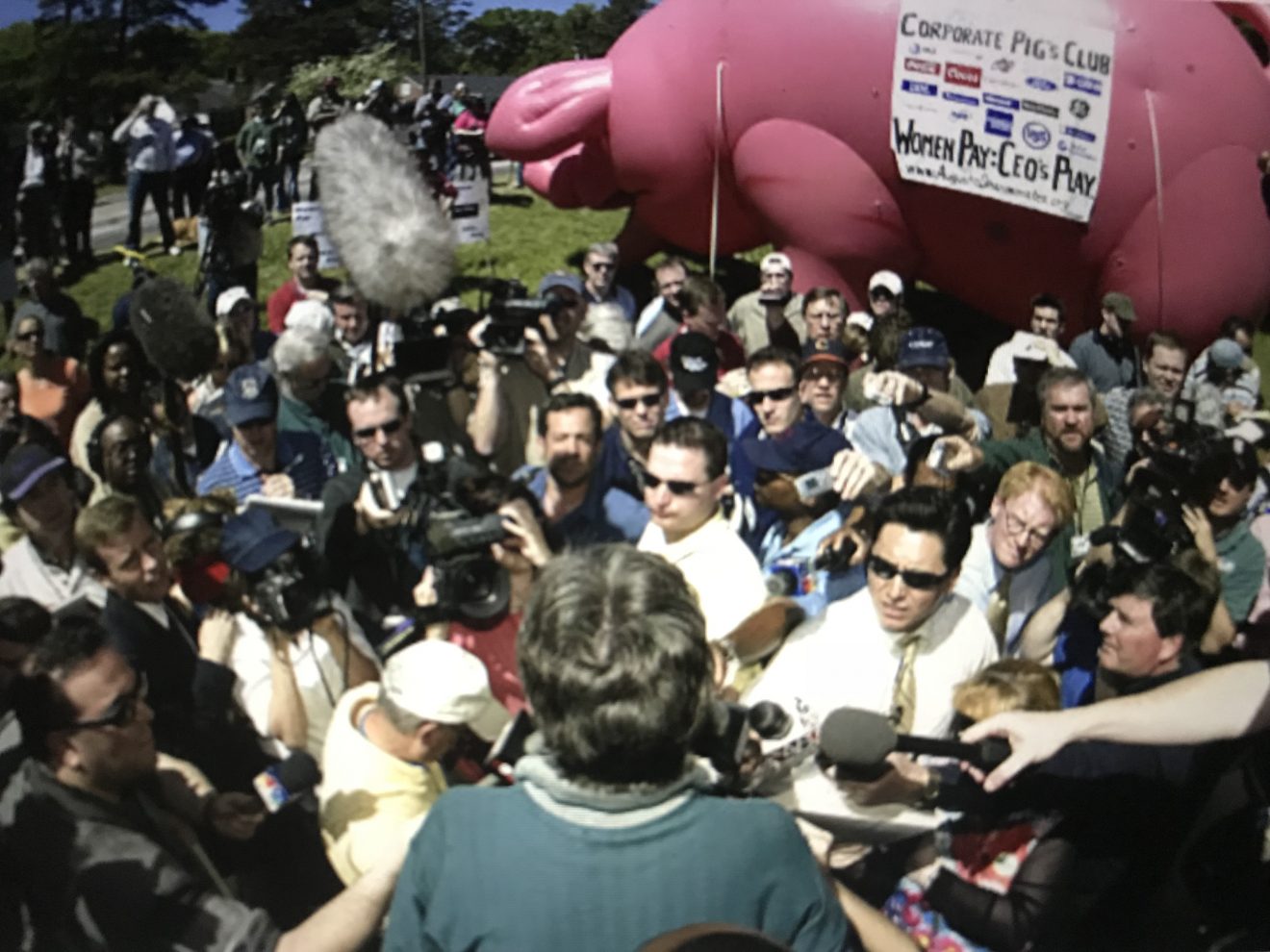 The inflated pig at Burk's protest [Image courtesy of Getty Images]
A large apartment complex, with hundreds of windows, loomed over the demonstration site. Not a comforting thought in a city that was awash in anti-Burk rhetoric, bumper stickers, T-shirts, hats and buttons, where her face was stickered on the bottom of urinals all over town and where gun sales were advertised on local marquees.
The protest had a circus-like atmosphere. The media outnumbered the protesters. And the crowd included everyone from an Elvis impersonator, a drag queen and a Ku Klux Klan member. But, the long-term consequences concerning women's rights are still being felt today and Burk knows that her activism in the 2004 controversy played a big part in pushing the conversation forward on those issues.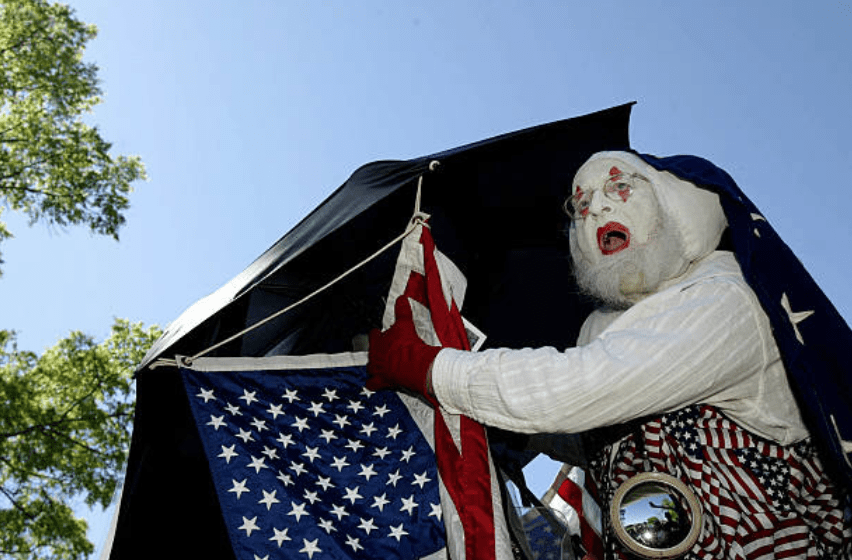 Sister Georgina Z. Bush, member of the Sister of Perpetual Indulgence, supports Martha Burk outside the gates of Augusta National on April 12, 2002. (Image courtesy of  Craig Jones/Getty Images)
"No dogs or women allowed." Augusta National Golf Club had this sign on the entrance of their building for years and had no inclination to take it down, even with a protest on the rise.
The club had gone to extraordinary lengths to render Burk's protest ineffective. They reasoned that if the protest could be painted as a failure, they could vindicate the idea of sex discrimination within the walls of their clubhouse and on their golf course.
On June 12, 2002, with the help of her fellow co-workers at the National Council of Women's Organizations, Burk sent a nine-sentence letter to the Augusta National chairman William "Hootie" Johnson in which she challenged the club's gender-restricted membership policies. She hoped that this letter would encourage them to change their policies without need for further discussion.
Two weeks before the Masters, Jim McCarthy, a reporter for The Post, introduced the idea of violence into the discourse. In press interviews, he was using the terms "drive-by shotgunner" and "bomb-thrower" to describe what might happen to her during the protest. Burk knew the effect of this idea could be life-threatening. It might put some inappropriate ideas into some of the men who wanted to keep Augusta National as a male-only club.
Shortly after the press got involved, death threats started pouring into Burk's e-mail and several voicemail messages with promises to come after her with weapons. The press was also adding to this issue – fueling the fire instead of dousing it.
A Sports Illustrated article published the week before the protest included a chronology of the controversy and repeated McCarthy's inflammatory words. A local citizen declared, "She ought to be shot."
"By the way," reporters at Sports Illustrated said. "We'll pay you $750 for a response to our article."
In response to this request, Burk made it clear that she wasn't amused with their offer.
"Thanks a whole lot," Burk said. "I'll use it to hire a bodyguard."
Burk quoted one of the most vile and threatening emails she received before the protest during an interview with reporters:
"You are a fucking c—. I hope you slide under a gas truck and taste your own blood before you die! Another case of some bitch that desperately wants to be a man. Keep the Open ALL MALE unless you want to suck my dick between holes." [E-mail to NCWO, 2/28/ 2003]
In light of the tension and hostility being spread throughout the national discourse about Burk's upcoming protest, Nancy Boothe at the Feminist Women's Health Center in Atlanta arranged for Burk's protection. She hired bodyguards and rented an SUV with darkly tinted windows to help Burk make the trip. Except for the protest itself, Burk stayed completely out of public view during the 48 hours she was in Augusta, Ga.
At the time the controversy erupted, Augusta's membership had been secret for the 72 years it had been in existence. Their membership roster has been closely guarded. Not even reporters could get their hands on this list, even though they tried for several years. Burk had the idea that if she could get her hands on this list and make it public, it would finally prove that there is real a problem with sex discrimination within the club. This could make it or break it for her campaign.
One day, she received a fax that had the roster list. The fax number at the top had a Florida area code and the identified sender was LMG Marketing. According to Burk's accounts, the company didn't exist except as a service business of some kind in New Zealand.
The story broke on Sept. 27, 2002, on the front-page spread in the sports section of USA Today. The list read like a roster of the Fortune 500 with a member of Congress, some high-level university and charity officials and powerful statesmen thrown in. This provided more than enough sufficient evidence of the 'good ol' boys' club in action.
That day cost the city of Augusta a $120,000 settlement after a which the U.S. Circuit Court of Appeals later agreed that Burk's rights had been violated when her group was forced to protest on a muddy field instead of outside the gates of Augusta National, where they originally planned to protest their concerns.
Pressure soon mounted for Augusta National to change its ways, which eventually led to the club to accept women members in 2012. After Augusta changed its policy, the Royal & Ancient Golf Club at St. Andrews followed their footsteps, with 86 percent of the members voting in favor of admitting women after years of allowing only men to join.
Soon after this controversial fight, the United States Golf Association (USGA) shortly elected its second female president, Diana Murphy.
Thirteen years after Burk brought Augusta National and its membership policies to the public eye, the club's reputation and image in the world of golf never fully recovered.
The Long Journey to Equal Rights
Women talk too much. They play too slowly. They can barely hit the ball more than 50 yards.
You'd think these old clichés would be worn out and discarded — like so many broken tees you might find scattered around the course. But, even though golf has been around for more than 500 years, there hasn't been a substantial amount of progress for women golfers.
Burk, one of the most influential women's rights activist in the 21st century, was incessantly booed and ridiculed before, during and after the protest. She vowed to wage an unrelenting campaign to pressure Augusta National to allow women to become members and that's exactly what she did.
Even though Burk's success has shown promise for women golfers, there are still numerous men-only clubs around the world and the winning prizes are much lower at LPGA tournaments than they are on the PGA Tour.
There is little concern in the golf world about the sexism towards women golfers that is so blatantly obvious. Maybe it's because it's a men-dominated sport. Maybe it's because women have never been treated equally and that's just the way things are. Or, maybe it's because no one wants to shine a spotlight on the issue because it's a sensitive subject. Either way, it's going to take a long time before the game is truly equal for men and women, but if more women stand up for their rights to play the game, there's a better chance to see a real change in the future.
"You just have to put one foot in front of the other," Burk said. "Sure, it was a scary concept to me that I could have been hurt, but if you stand up for something you truly believe in nothing will stop you from achieving your goals."
The "Mother of Golf", Mary Queen of Scots, had her head cut off in part because she played golf. Burk led one of the biggest women's rights protest in golf history. Thanks to women such as Burk and the "Mother of Golf," female golfers have stood up to some of the most blatant forms of sexism in the game. But real equality still remains as elusive as a hole in one.
Elinor Nickerson notes in her book Golf: A Woman's History:
"All during the time from the days of Mary, Queen of Scots, to the close of the eighteenth century, a period of more than 200 years, women are not mentioned in connection of the game of golf. The usual accounts of the development of golf make it appear as though no female ever placed a hand on a golf club to take a swing at a golf ball."
Rules, Rights, Redress
Although women golfers have been fighting for their equal rights in the golf world, it has been a long journey that still hasn't reached its destination. Golf has a long and disappointing history with sexism and discrimination. For those deeply rooted in the sport, it's sometimes easy to forget or overlook.
When women's golf first began during the 1500s, Mary Queen of Scots, the "Mother of Golf," lost her head because she played a round shortly after the death of her husband.
Lexi Thompson, the No. 1 LPGA tour player in 2017, is only one example of many professional women golfers who have trouble getting sponsors and equal pay.
Media outlets pursue the idea that "sex sells" when picking who will be featured on the front cover of their magazines, rather than basing it on performance or rankings.
Clubhouses and golf courses to this day barr women from entering their doors. At some golf courses, women have to enter the clubhouse through the back door or change into their golf attire inside of their car, rather than being offered a changing room inside of the club.
Women golfers are required to follow a set of strict rules when it comes to their attire, yet the men only have to look "clean and polished" when competing.
The obvious gender-based wage gap poses another problem. When there's a $3 million difference in the prize money for these golf tournaments, it points to the idea that the men play better and deserve more attention than the ladies do. However, when the ladies are playing from the same tees, on the same course, using the same type of clubs and shooting the same overall average as the men, it's a disturbing fact that should be questioned.
It begs the question, why are women golfers treated differently when they are just as good, if not better, than their male counterparts?
The 'Mother of Golf'
"For the love of the game she died
She played when she was suppose to cry
She didn't care what they say
She mourned in her own way
A golf club swang away
Giving birth to a game they now play."
[Poem by Abdelrahman Ghanem]
"The Mother of Golf," as Mary Queen of Scots is known, pioneered the game of golf for women in the 1500s. There aren't many individuals in history that have been born into such a privileged lifestyle, only to have their lives come to such a tragic end as did Stuart.
Stuart was born to Scottish royalty with close ties to the royals in France. Mary's father, the King of Scots, died when she was only a few days old, making her the Queen of Scots at a very young age.  Her mother ruled Scotland while Mary was sent to France at the age of 5 to be educated in the French Court.
To unwind from the stresses of being queen, Mary began to play golf in France, who arranged to marry to the Successor of the French throne Francis II when she was only 15. He was the king for only a short while until he passed away at the age of 16, the same year in which Mary's mother died in 1560.
Stuart returned back home to claim her inheritance to rule Scotland. Many believe it was Stuart who brought back with her the term "caddie."  In France, military cadets carried golf clubs for royalty and were referred to as "cadets." Stuart pronounced this term as "caddie" because of her English accent.
Stuart regularly played on the Links at St. Andrews, where she had a private vacation cottage, often doing her own shopping and cooking. The "Mother of Golf" or the "Athletic Queen," as she was also known, helped popularize the game.
Mary queen of Scots playing golf at St. Andrews course [Image courtesy of Getty Images]
Wearing pearls and stockings, Stuart displayed elegance and prowess on the golf course. Although she played other sports including hunting, horseback riding, archery and lawn bowling, golf was more than just a sport – it was her passion.
Stuart often golfed with her court ladies, including her best friend Mary Seton, who was given a necklace from Stuart herself after beating the queen in a golf match at Musselburgh.
Unfortunately, Stuart's passion for golf was a factor in her demise.
After playing a round of golf shortly after her husband's death in 1587, she was prosecuted and imprisoned for hitting the links so immediately following his death, which indicated her "poor and suspicious character."
The charge read: "A few days after the murder she passed to Seton, exercising one day right openly at the fields with Pall Mall and golf, a sure sign of her hard-heartedness and guilt!"
Maybe she'd made a habit of winning too many tournaments or dropping one too many birdies to make alliances and friends within the clubhouse. In any case, she lost her head for her decision to play.
Women golfers might not lose their heads now, but they aren't getting ahead either.
Second Best
Lexi Thompson is a huge force to be reckoned with in the world of golf.  The Puma-clad pride of Coral Springs, Fla., has racked up years of winning trophies and has gained millions of followers that women's golf has never been seen before, all while staking her claim as the face of the LPGA at only 22-years-old.
In 2007, she qualified for the U.S. Women's Open, becoming the youngest player in history just at the age of 12. In the same year, she reached the second round of the U.S. Girls' Junior and also reached the quarterfinals of U.S. Women's Amateur. In 2008, she won the U.S. Girls' Junior beating Karen Chung in the finals. In 2009, she played the 3rd round of the same competition and that same year she was one of the semi finalists of the U.S. Women's Amateur.
In 2017, Thompson won two major championships, finished in ten top-tens and earned a victory for the U.S. in the Solheim Cup race. The tournament that put a close to her season of thrills was the CME Group Tour Championship in Naples, Fla. On the final day of the championship, it was a sun-drenched day when Thompson made her first putt on the 72nd hole at Tiburon Golf Club.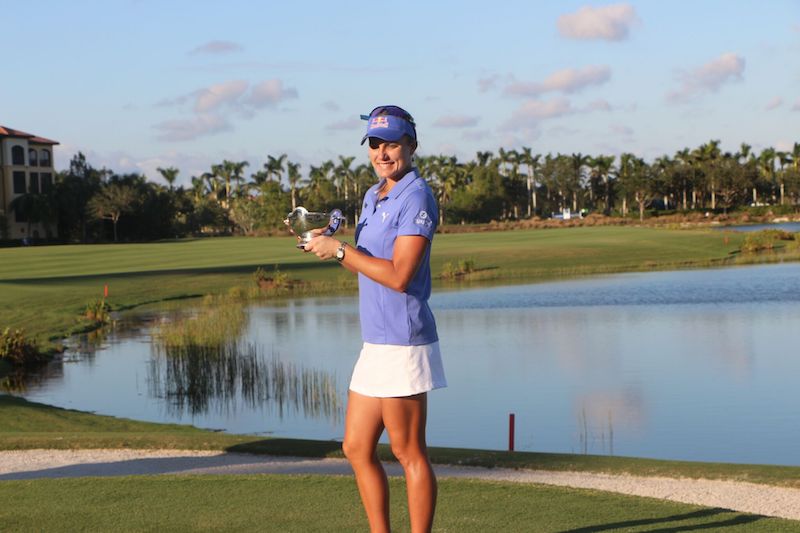 Lexi Thompson wins the Vare trophy at the CME Group Tour Championship in Naples, Fla. [Image courtesy of Lauren DiCenso]
The LPGA Player of the Year and $1 million prize was on the line for Lexi Thompson and she was planning to end this season in a bang.
She was about 60 feet from the cup, looking at a downhill, breaking putt for birdie to win the championship. Many of the players out in the field that day had hit it long, but the greens were fast and the winds made it difficult to get the distance they needed to break 16-under-par. Thompson spent a lot of time talking with her caddie, Kevin McAlpine, about how to make this putt.
The crowds surrounding the 18th hole quieted as she remained crouched behind her ball, staring at her target. She stroked the putt and the speed was good. It stopped about two feet to the left of the hole. Then, she missed the last putt by two inches, but finished with 16-under-par — an above-average finish for a course as difficult as Tiburon.
She walked off the course unhappy and disappointed. Even though she made a record of breaking 16-under-par, it wasn't enough for her. Missing that last putt would be the only subject of concern for the media, not what she just accomplished.
Thompson is so highly regarded on the LPGA that she would be considered to be at the same level of the playing-field as Tiger Woods, who is one of the highest-paid and one of the most successful golfers to this day. Even so, she doesn't get the recognition she wants or deserves.
Thompson is one of the best LPGA golfers in the 21st century, but instead of being recognized for how well she golfs, she is subjected to being viewed as sexy and fit.
In 2015, Golf Digest released a feature cover of Thompson, but it's not the cover you would expect to see for such a renowned LPGA golfer.
Golf Digest's magazine features Lexi Thompson topless, with only a white towel draped over her shoulders, barely covering her breasts. But, at least they gave her a golf glove.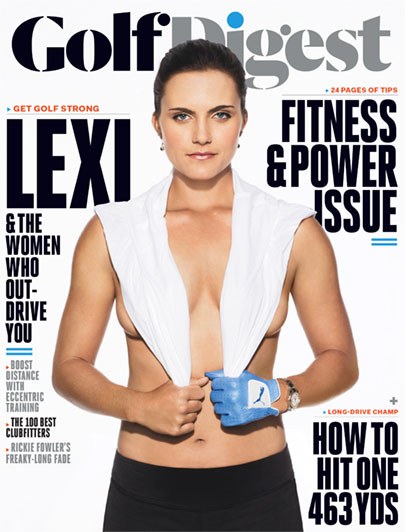 Lexi Thompson on the cover of Golf Digest's 2015 issue [Image courtesy of Golf Digest]
Thompson is known for her successive career and great swing. She's also a idol for most aspiring junior girl golfers. Although her intentions to showcase the fitness level of golfers is something to admire, it doesn't leave a lot to the imagination.
PGA teaching pro Chance Scheffing told CBS New York: "I wasn't sure if it was a Playboy ad, or if it was a Golf Digest ad."
In Golf Digest's world, female golfers are just regular girls. If they are cute or fit, they might make the cover. Doesn't matter how well they golf because they're looking for attractiveness, rather than performance.
When prominent magazines like Golf Digest features male golfers on its cover, they are presented as what they are–pro golfers. They are always fully clothed and they are definitely not being subjected to taking the same sexualized photos as women golfers. And sure, no one is in a rush to see a shirtless John Daly, but that's not the point.
When it comes to showing off the men on the PGA, they don't base it on looks, they base it on talent and performance. When it comes to the LPGA, it's all about the looks. You would expect to see Thompson wearing a golf outfit swinging her club like John Daly, but instead she's shirtless with only a golf glove to show for her talent.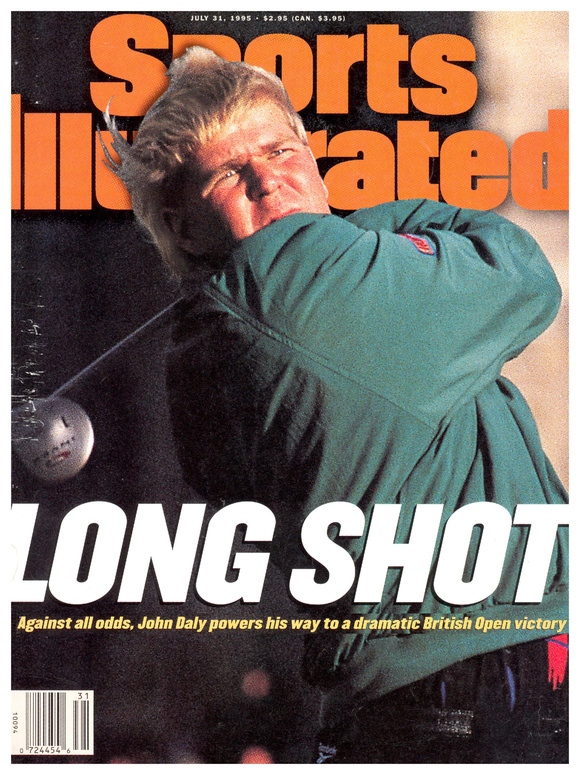 John Daly fully clothed on the cover of Sports Illustrated [Image courtesy of Sports Illustrated]
"I wanted to show the power and fitness of female golfers, but the photoshoot didn't go as I expected," Thompson said. "I wanted something that would be more respectable for the young golf girls who follow me. I almost feel embarrassed, but I guess that's the way things are. I just have to go with it for now."
However, not all is lost for Thompson. After winning the CME Group Tour Championship she was e invited to play at the QBE shootout for the PGA Tour's final tournament at Tiburon Golf Club this December. She will be the first LPGA golfer to play in an all-men's tournament.
"It will be a little different playing at the QBE Championship and being the only girl it's going to be a different atmosphere," Thompson said. "I think this is a huge stride for women's golf because the PGA and LPGA never get the opportunity to play together. We don't get the same attention as they do. This is going to be a big opportunity to show the boys what I have to bring to the table."
It's easy to see that the LPGA is filled with talented professional women golfers worthy of their male counterparts, but they are still used to being considered second best.
Golf will continue to struggle with widespread gender-equality discrimination as long as it continues to treat most of the professional LPGA golfers as objects, rather than athletes.
The Gender Gap in Prize Funds
The PGA's 29th QBE Shootout, founded by tournament host and World Golf Hall of Famer Greg Norman, is held at Tiburon Golf Club in Naples, Fla., every year for the PGA's last event in December.
The prize fund for the PGA? $3.1 million. The prize fund for the LPGA? $1 million.
In 2014, the last year in which both organizations' tax documents are available, the PGA Tour Inc. brought in $1.075 billion in total revenue with $364.8 million coming from TV rights and an additional $290 million from sponsors. That same year, the LPGA earned $102.8 million in total revenue, with $14.6 million coming from TV and $5.8 million from sponsors.
The obvious wage gap might suggest that the PGA Tour is better than the LPGA. But, if you take the average of the top 10 in scoring and in birdies on both tours, you will find that the best men and the best women in the game play equally.
The top 10 players in scoring average on the LPGA Tour are shooting a 69.76 per round and the top 10 in birdie average are making 4.36 per round. The top 10 in scoring on the PGA Tour are firing a 69.34 per round and the top 10 in birdies are dropping 4.61 every 18 holes. The men are longer off the tee, but the women are more accurate. The men are better from the sand, but the women hit more greens in regulation.
The PGA is a separate organization from the LPGA, but the USGA, which handles the prize funds, tournament locations and rules for both the men's and women's golf associations, has been giving more money and attention to the PGA and less and less to the LPGA.
The USGA's mission statement, in part, reads that it "acts in the best interests of the game for the continued enjoyment of those who love and play it." Is it not in the best interest of many "who love and play" the game to institute equal pay?
Tax documents show that as of 2014 the USGA had $309.3 million in total assets and made $64 million in profit from 2011 to 2014. The documents do not show how that money was spread out across the organization, but in 2015 the men's U.S. Open purse was increased by $1 million, while the women's was bumped to $500,000.
They play the same number of holes, yet the USGA values the PGA twice as much as the LPGA.
"I guess when you make as much as they do [the PGA], you don't really care about winning the prize money," Thompson said. "There is a huge difference between what we play for and what the men play for. Something like $50,000 is huge for us, but it's pocket change for the men."
The Deep Divide
Wait, I Can't Wear That?
The professional golf world has become increasingly progressive when it comes to allowing their players to make fashion statements in an effort to modernize the sport and appeal to millennials and junior golfers. Rickie Fowler regularly sports the joggers with high tops; Nike started making polos without collars; and the European Tour allows its golfers to wear shorts during practice rounds.
Yet the LPGA is taking a turn back to its traditional roots by issuing a stricter dress code setting the LPGA way back.
On July 2, 2017, LPGA President Vicki Goetze-Ackerman sent an email to the LPGA players, telling them that starting July 17, there'd be some new rules on dress code. 
Plunging necklines, NO. Leggings, NO. Workout gear and jeans, NO. Joggers, NO. How about those chic racerback-style tops, like Michelle Wie has been wearing? NOT HAPPENING.
But, if Rickie Fowler can rock joggers and high top sneakers on tour, why is it any different for females?
That's not all, though. There was the sentence in the email with a MUST: "The length of skirt, skort and shorts must be long enough to not see your bottom area (even if covered by under shorts) at any time, standing or bent over."
How is the USGA and LPGA going to enforce these new dress codes on their players when there aren't any specific ways to measure how "tight" a certain shirt is or how much shoulder they can reveal before they are fined? Are the players going to have to bend over to pass inspection at the first tee? Why not just bring out the old "skirts/shorts must be no more than 4 inches above the knee" country club dress code? Sure, that would be a bit excessive, but at least it will clearly define what is acceptable and what isn't.
According to the PGA's official website, its male players "…shall present a neat appearance in both clothing and personal grooming. Clothing worn by players shall be consistent with currently accepted golf fashion."
The Marathon Classic, which is an LPGA tournament played in July, is the first event this year where the stricter dress code was enforced. Before the opening round, Thompson posted a photo of herself in a golfing outfit that could be something from the 1800s, joking she would wear it in order to comply with the new dress code.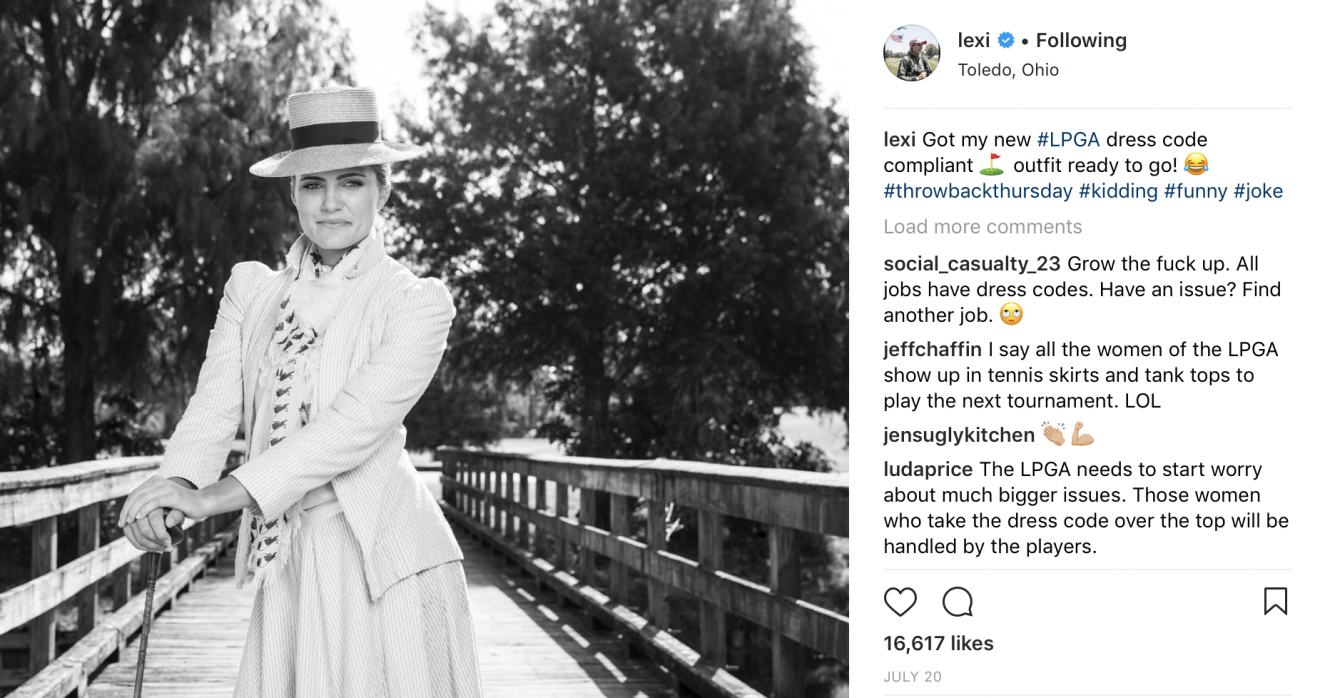 Lexi Thompson makes fun of the new dress code [Image courtesy of @lexi Instagram]
The confusion behind this new dress code stems from the fact that these new rules were put into place just a few months after the LPGA modernized what qualifies as appropriate golf attire. Michelle Wie wore an outfit that was more athletic and progressive than any golfer had before and Golf Digest applauded the LPGA for allowing the racerback top and fitted skirt.
UltraViolet, an organization committed to fighting sexism, described the new dress code as something that would be seen on an episode of "Mad Men." Shortly after the dress code was enforced, the USGA announced that the U.S. Women's Open would take place at Trump National N.J. Peaceful protests ensued with UltraViolet taking the lead.
Shaunna Thomas, the founder of UltraViolet, made her opinion clear on the matter that day during an interview with Golf Channel:
"It's clear that the LPGA is working overtime to prove they are just as sexist as recent media reports suggest—taking its female athletes back to a time when it was acceptable to police women's skirt length and neckline. The LPGA should be ashamed of itself."
In some sports, standard attire requires girls and women to wear much less than their male counterparts while competing, while in other sports such as golf, women are expected to cover up.
It will be interesting to see how the next few years on the LPGA tour pans out. Maybe someone will fashion the knickers that LPGA star Patty Sheehan used to wear.
Sex Sells…Sex, Not Golf
Golf Digest's May 2015 fitness issue featured Thompson posed wearing nothing but black bottoms and a golf glove, with a towel draped over her breasts. This was also the month Paulina Gretzky posed for the cover of Golf Digest in 2014, for little reason other than her relationship with Dustin Johnson and her attractiveness.  
In an interview with The Guardian, Mike Whan, the LPGA's tour commissioner said:
"We're disappointed and frustrated by the editorial direction and timing Golf Digest has chosen with its most recent magazine cover. If a magazine called Golf Digest is interested in showcasing females in the game, yet consistently steers away from the true superstars who've made history over the last few years, something is clearly wrong."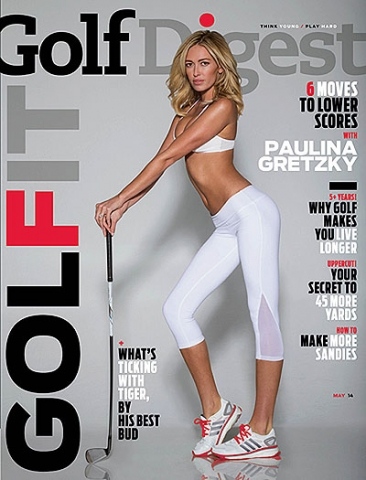 Paulina Gretzky [Image courtesy of Golf Digest]
There have only been three female professional golfers on the cover since 2008. Why would a non-golfer be chosen over many qualified women?
In an interview with the New York Times, LPGA professional Stacey Lewis told them what she thought about the magazine's choices:
"It's frustrating because it's Golf Digest; it's not Sports Illustrated's swimsuit issue," Lewis said, "I think they should maybe recognize some of the great women golfers that we have. It's like, What do you have to do to get a little respect? I'm guaranteeing you right now, it was not a woman editor who chose that cover."
Even more recently, Lydia Ko — who was the world No. 1 at 17 years old, has 19 professional wins and won the silver medal at the Rio Olympics — was overlooked for a cover shot on Golf Digest, which preferred Paige Spiranac for her looks and massive social media presence.
Paige Spiranac on the cover of Golf Digest May 2016 (Image courtesy of Golf Digest)
Magazines and online platforms are progressively pushing the limit of how much clothing is acceptable for the front cover of a major golf magazine. Just as media agencies are feeding into the idea that "sex sells," so too are the countless social media brands that give more attention to the ones who look good, rather than the ones who play good.
Social media plays a significant role in how the LPGA is represented and the consequential influence it has on young women golfers hoping to gain the same attention.
There's an influx of young girls who sex themselves up to grow their followers and "likes." Similar to any other sport, sponsorships for female professional golfers hardly exist, but the chance of receiving some type of sponsor increases with social media popularity and what kind of pictures are posted.
For men, it takes none of this effort to get sponsors. They just have to play some good rounds of golf and they instantly receive dozens of offers. For women on the LPGA, they're lucky if they receive one or two offers, even if they're at the top of their game.
"When I started playing professionally after college, I was posting provocative photos in the hopes that it would spark the attention of major golf brand companies and, in turn, help me clinch a sponsor," Spiranac said, "This always unsettled me, though, because I shouldn't have to do that to get their attention."
Even the No. 1 player in the LPGA had her fair share of sexist remarks over social media. In 2016, Thompson posted a photo of herself on her Instagram that showed her about to hop on the treadmill for a running session. In her caption she says that running was an outlet to clear her mind.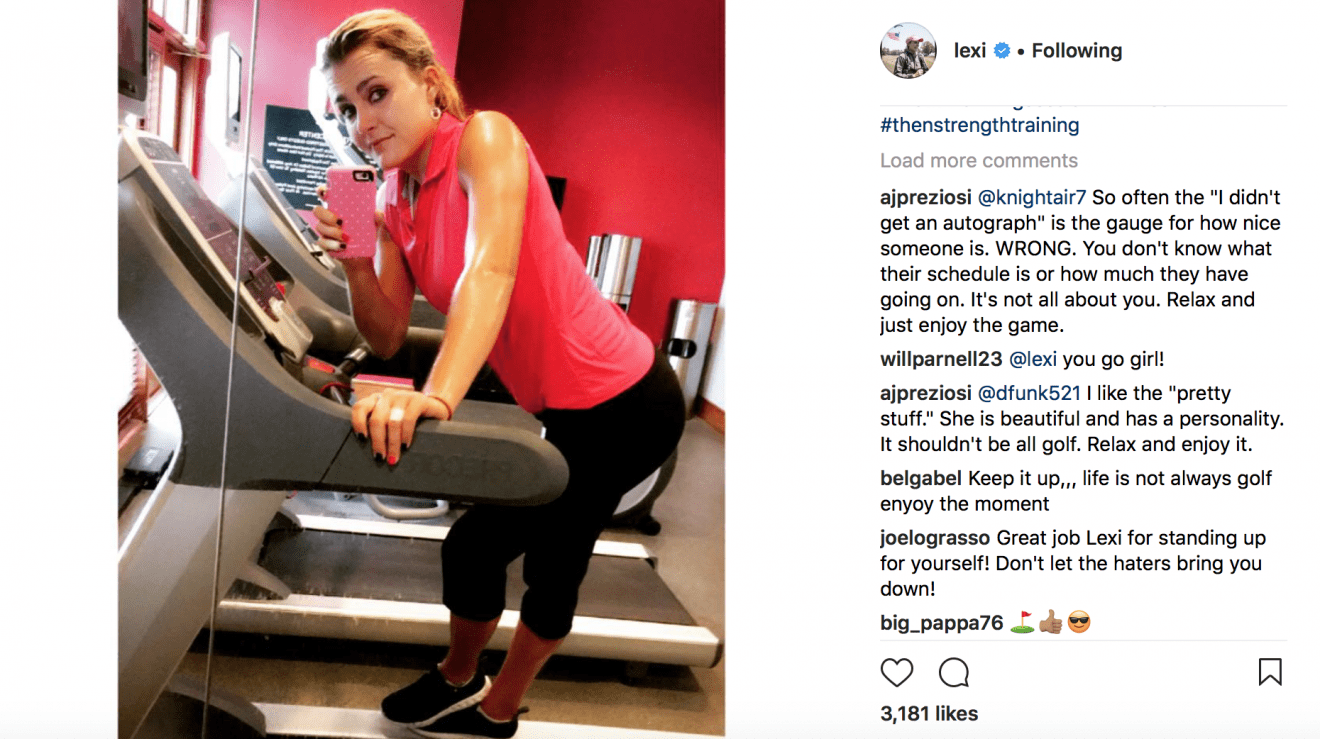 Lexi Thompson's selfie at the gym [Image courtesy of @lexi Instagram]
Two of her followers, however, took issue with Thompson's fitness routine and her social media presence, posting comments suggesting that she should be "focused on her game" and not posting "pretty stuff." When Thompson missed the cut at the LPGA's Texas Shootout, one of her followers remarked that she should be "embarrassed" by her poor performance.
When nudity becomes a requirement for attention, when sex appeal becomes a necessity for airtime and when one's physical assets determine whether or not her achievements will be recognized, sexual liberation becomes sexual subjugation.
In the professional world of tennis, the winners of the grand slam events, get equal prize money, regardless of gender.
So, when golf's largest publication only recognizes its golfers for the shape of their bodies, not on their performance on course, it encourages the continuation of sexism and unequal pay that has its roots deeply planted within the golf industry.
Rigged Rules
It's not just the professional women golfers who have to fight for their rights to play, it's also the young girls who are striving to get their tour card, but aren't being treated fairly because of their gender.
Emily Nash, a female student at Lunenburg High School in Lunenburg, Ma., had the best score at a boys' golf tournament, but was denied the winning trophy because she's a girl.
Nash played from the same tees as the boys and shot a 37, beating her nearest competitor by four strokes in the Massachusetts Division 3 golf tournament, but wasn't allowed to advance to the state tournament.
Why? Well, she's a girl.
A set of rules initiated by the Massachusetts Interscholastic Athletic Association states that girls playing on a fall boys' team can't be entered in the Boys Fall Individual Tournament. That means Nash can't compete as an individual and her final score counted only toward her team's total.
The ruling has been widely criticized and Nash has received hundreds of messages of support, including an Instagram post from none other than LPGA star Lexi Thompson.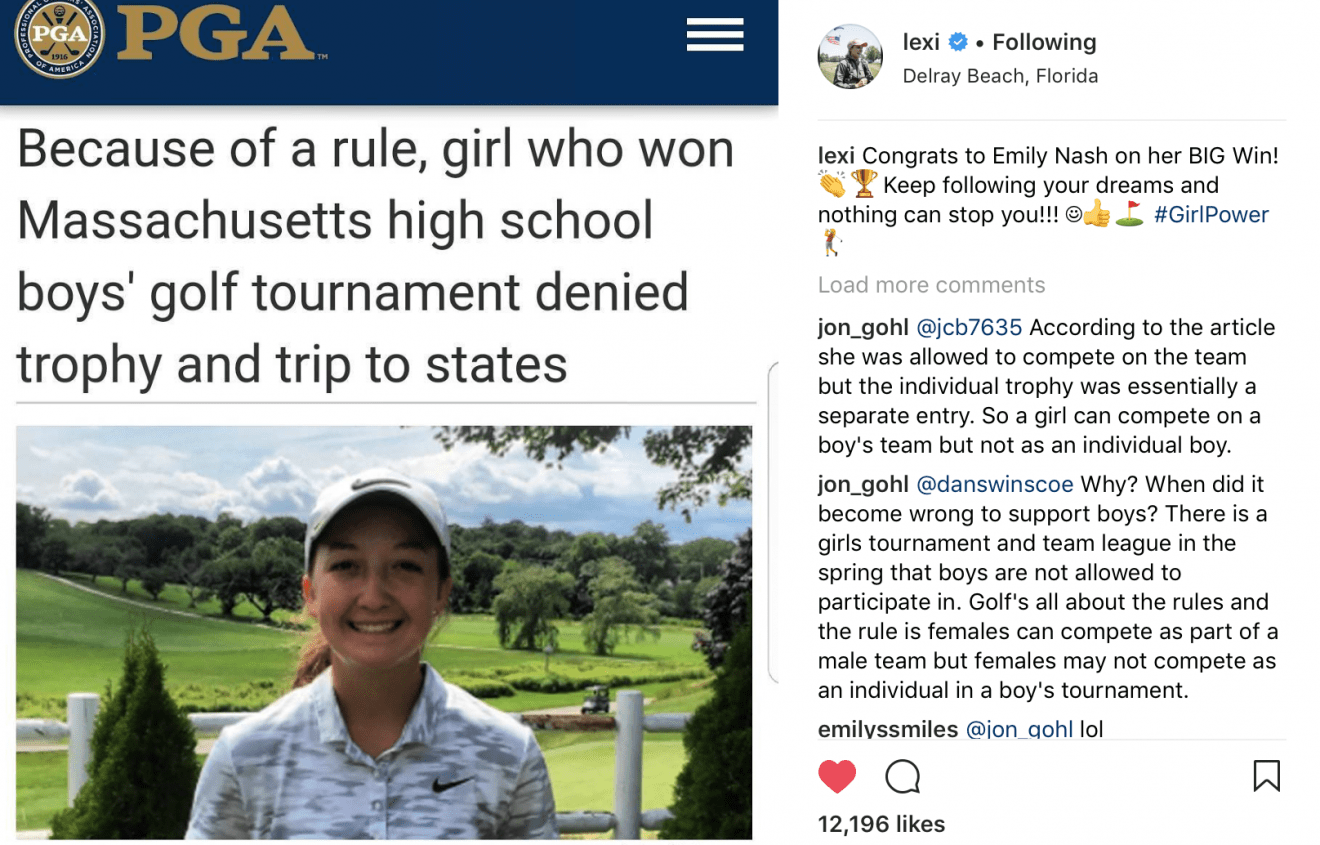 Lexi Thompson comments on Emily Nash controversy [Image courtesy of @lexi instagram]
"Congrats to Emily Nash on her BIG Win!," Lexi Thompson said. "Keep following your dreams and nothing can stop you!!!"
Even with all of the support, the MIAA released a statement later on to clarify the issue:
"As stated in the official MIAA 2017 Fall Golf format, "Girls playing on a fall boys team cannot be entered in the boys fall individual tournament. They can only play in the boys team tournament….We congratulate Lunenburg's female golfer on her performance and wish her continued success as she participates once again in the MIAA Girls Individual Golf Tournament in the spring of 2018."
Once this became national news, pro golfer Brittany Altomare — who is from central Massachusetts and played in the boys' state tournament when she was in high school — said the rules should be changed, in this case.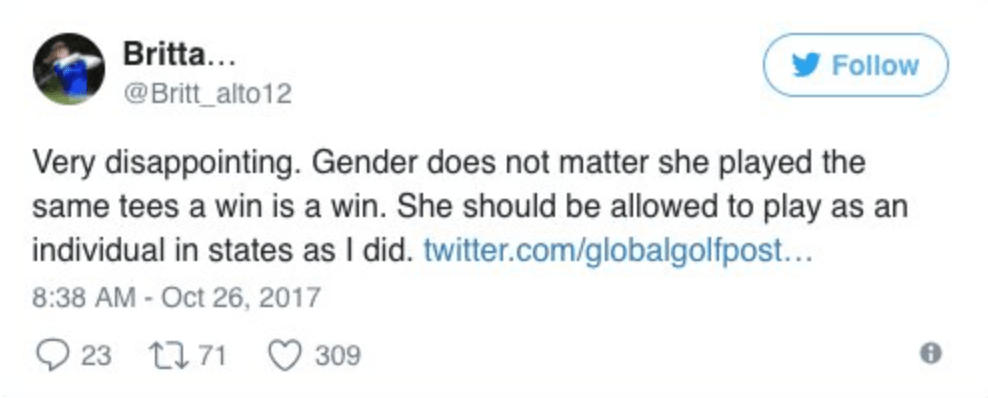 LPGA star Brittany Altomare shows her support for Nash [Image courtesy of @Britt_alto12 Twitter]
Under Title IX, contact or skill-based sports are allowed to be separated by gender.  In other words, the MIAA could have kept girls out of the boys' tournament completely.
In an interview with NPR, David S. Cohen, a law professor at Drexel University, explained why the rule raises Title IX concerns.
"But, once they say, 'We're going to let girls participate,' they're required by Title IX to treat them equally," Cohen said. "And denying someone the trophy and the championship is far from treating them equally."
The History of The Gentleman Only Sport
There are some men who don't play a part in the sexism that's now present. But, it's an issue that has continued to this day and needs to be addressed. Progress comes slowly to many male golfers, so golf's oldest traditions plods on.
At the end of the 19th century, men were still struggling with the idea that women were just as good, if not better, at golfing than they were. These men worked diligently to come up with ways to keep the ladies in check. Lord Moncrieff, for example, argued that women should not hit the ball any further than 60 to 70 yards.
Some men built their wives a putting green next to the Old Course in St. Andrews — all so the women could putt while their husbands played golf.
Even though the women enjoyed their putting greens, they wanted the opportunity to golf with the men on the fairways of the Old Course. That determination prompted  women golfers in the United Kingdom to have their own official league, called the Ladies Golf Union (LGU). Blanche Martin, the LGU spokesperson, teamed up with amateur golfer Horace Hutchinson to come up with a plan for their new golf league.
Hutchinson helped these women kick off their league within a matter of weeks. Indeed, a great accomplishment of this league was the creation of the first British Women's championship that began on June 13 of that same year at the Ladies' Course of the St. Anne's Golf Club in Lancashire.
In the 1920s, Joyce Wethered had one of the best swings on the course. Yet, even though she has a great golf swing that combined distance and power, some men continued to view women golfers as inferior. Most of the more prestigious clubs in the golf industry were still all-male clubs and so the fight for women's rights continues.
In 1946, officials at Royal Liverpool refused entry to the wife of three-time British Open champion Sir Henry Cotton. The club's secretary declared to the press, "No woman ever has entered the clubhouse and, praise God, no woman ever will."
In the 1960s, Marley Spearman, who won two British Amateur championships, was forced to leave a top club in England because of her gender. Similarly, a group of competitive women golfers in Australia had to use the back door at every clubhouse stop because the clubhouse did not want them walking through the front entrance.
These are just a few examples of the sexism white female golfers had to endure, but what about the challenges faced by women minorities who wanted to play with the men too?
In 1964, Althea Gibson became the first black woman on the LPGA Tour. However, hotels refused to rent her a room and she frequently dressed in her car before a golf match.
Frustrated and fed up, women fought back harder in the 1970s. This was the decade when the National Collegiate Athletic Association (NCAA) had to accept women's college athletics. In 1972, Title IX provided for equal federal funding of both boys' and girls' school sports — golf included. That law changed athletics forever. Before Title IX, only seven percent of high school student-athletes were girls. Today, they make up more than 41 percent.
These changes also appeared in the LPGA's Colgate-Dinah Shore, which debuted in 1972. The LPGA started seeing the increase in pay for the winner's check. They were offered $20,000, which was at least five times the rate than they have been offered before.
Things kept moving in a forward direction when Nancy Lopez, a Hispanic female amateur golfer, joined the LPGA. She won five tournaments in 1978. She could be compared to Arnold Palmer and Jack Nicklaus who were two of the best golfers of all time. Everyone loved her and not just for her looks. She had proven herself on the course. There were still men who only watched her play for her beautiful face and athletic body, but this still was a step forward.
By the time Annika Sorenstam joined in 1994, the LPGA was on the rise and started to become recognized for their formidable team of women. They even started to steal the headlines from the men's game on some occasions. In 2001, Sorenstam became the first woman to ever shoot a 59 in competition. Three years later, Michelle Wie appeared as an amateur at the men's 2004 Sony Open in Hawaii and missed the cut by one shot. Between 2010 and 2016, Asian women took 18 major victories on tour, while only one Asian man has ever won a single major.
Women golfers began to make their mark in the world of golf, showing their incredible skill and etiquette on the course. Everything seemed to be progressing in the right direction, but there were always those who were willing to voice their negative opinions.
In 2012, Brian Kilmeade, the co-host of FOX & Friends, said, "Women are everywhere. We're letting them play golf and tennis now!"
I Just Want To Play
Misogyny has been intertwined within the golf industry for decades and it's done very little to dismantle the sexist attitudes and practices within the sport.
You might think that since it's 21st century and women have been making strides for equal rights and equal pay that it would apply in the same way in the world of golf. However, this sport is nestled into its tradition that golf should be for men and women should be sitting on the sidelines cheering their husbands on from the sidelines.
But, "male-only" golf clubs still exist to this day. Most recently, Muirfield Golf Club in "Edinburgh, Scotland," voted to uphold its ban on female members in 2016. This will be the course where Olympic golf will be played in "Tokyo, Japan," in 2020. There's no doubt this could spark another controversy within the next few years. Just as Martha Burk protested at Augusta National, there will be women who will speak out against this sexist policy.
Some disagree with the idea that sexism exists in the sport. It seems the majority always uses its power to keep minorities in their place, whether it's within corporate America or golf. Men are used to being at the top. They don't want women storming in and taking the spotlight from them, which could explain the reluctant attitude of golf clubs and sponsors to support women in the game.
In a perfect world, it should be a game where every race and gender should be allowed to play. When Mary Queen of Scots had her head chopped off, after deciding to play a round of golf soon after the death of her husband, it was perhaps a message to potential women golfers to tread carefully. More than likely, these ladies' heads won't be chopped off in the 21st century, but the undertone of sexist comments brings an uncomfortable and discouraging feeling to women who want to play.
It's clear that white males dominant the golf industry and to challenge its discriminatory policies would disrupt the entire foundation on which golf was built. Currently, only 20 percent of women make up the golf population in the United States and it's an area that the game struggles to grow. Even more astounding is the fact that black women make up less than one-half of 1 percent of the nation's professional women golfers.
This is an overwhelming statistic and it's a reflection of who is in charge at the top. Currently, there are seven people who serve on the board of directors at the PGA of America — all are white and six are men. Similarly, the United States Golf Association's board of directors has fifteen members — twelve of whom are white and only two of whom are women.
Beth Brown, managing director of the First Tee, has been advocating for young women of color to learn the game and to open the opportunity for women to play golf. Similar to Martha Burk and other feminist activists, Brown strives to encourage the remaining all-male clubs to change their policies, so that all genders and races have the same equal opportunity.
The First Tee has three essential goals: to provide more female role models, give more opportunities for girls of color to learn how to golf and to give support for golf scholarships and applications.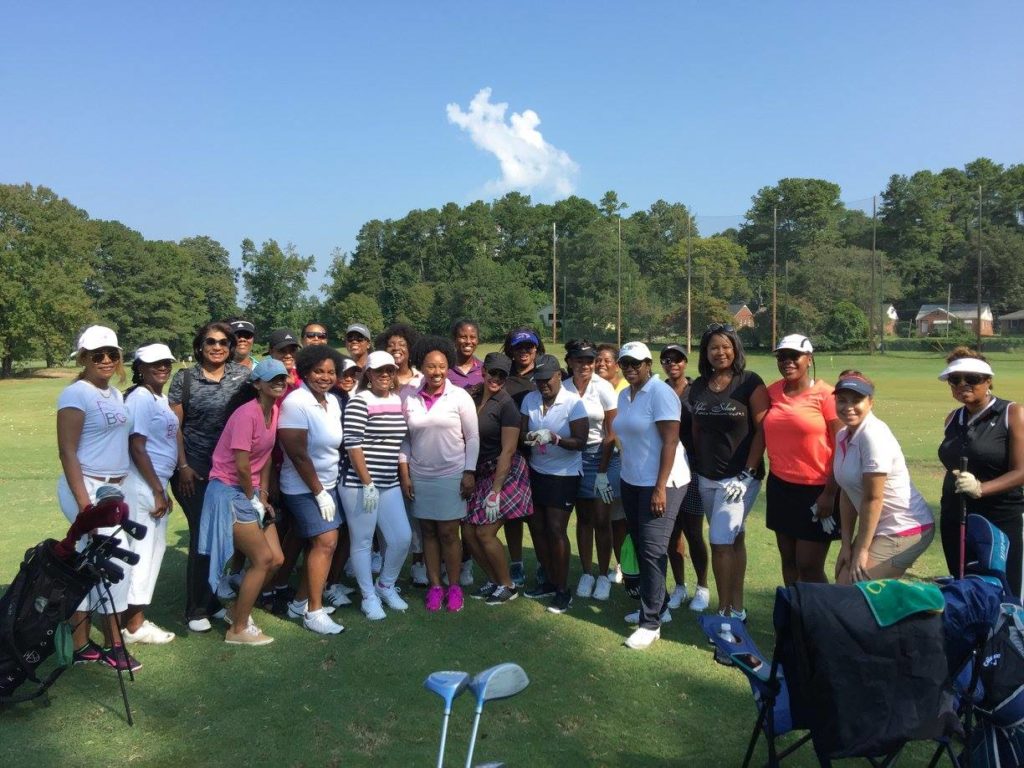 Members of Black Girls Golf gather together after a golf outing [Image courtesy of Black Girls Golf]
"We provide female role models that look like them, so they don't feel intimidated and we also encourage and support them the best that we can," Brown said. "For the past twelve years, we've been growing the ethnic diversity in our program and we hope to continue that trend."
The First Tee is only one of the many organizations that strive to bring women of color to the sport. Black Girls Golf is also creating diversity within the game – one hole at a time.
Tiffany Mack Fitzgerald took it upon herself to do something about the issue of discrimination and sexism—with golf. Now she's getting other African-American women on course with Black Girls Golf, an organization that supports, encourages and teaches these young women to be confident on and off the golf course.
Fitzgerald founded Black Girls Golf in 2011 to empower young women of color to play golf. In the office, Fitzgerald was called the 'black girl.' Now, she brings black women together to prove that Tiger Woods is not the only black golfer in the world. This all started when Fitzgerald found herself working within corporate America and she realized how much more opportunity men had when it came to playing golf. While they all went on outings after their shift, she was one of the few who were left out.
"You can invite me to the party, but if you don't ask me to dance you have not included me," Fitzgerald said. "Black Girls Golf is the invitation to the party that Black girls feel they were never invited to."
Fitzgerald makes clear that there's a difference between diversity and inclusion. Research shows there's very little diversity in the game of golf. There's no other organization other than Black Girls Golf, that focuses solely on bringing black women into the world of golf. This organization is an initiative that has been pushing forward young black women to join the LPGA, even if the chances are slim.
"There have only been six black women ever to play in the LPGA," Fitzgerald said. "Six. How do we address that? Maybe with awareness and education we can change the game, but we have a long way to go."
The PGA of America did not allow women to join until 1977. But, there was an instance in the 1960s when the LPGA tour had two black golfers, Althea Gibson and Renee Powell. Most clubs weren't open to this idea, so they made their "open" tournaments into "invitationals," so they could invite only white golfers. It seems as if these clubs always find a way to discriminate against others who are different, whether it's race, gender or ethnicity.
A more recent example is the exclusion of female board members when the 2017 PGA of America's annual golf show commenced. At this event, there was a panel discussion on how to grow women's golf. There was only one female out of five panelists to discuss this issue. If growing the game of golf for women is such a concern, shouldn't there be more women on the board having a say on this?
Anya Alvarez, a professional LPGA golfer who received her tour card at age 16, has experienced her fair share of sexism in golf when she played on the Symetra Tour a few years ago. She would travel to tournaments around the world and every time she did she was placed in a dump motel, stuck sharing a bed with other LPGA golfers. Not to mention, she had a lot of trouble getting sponsors to notice her, which really hurt her chances of making her name in the sport.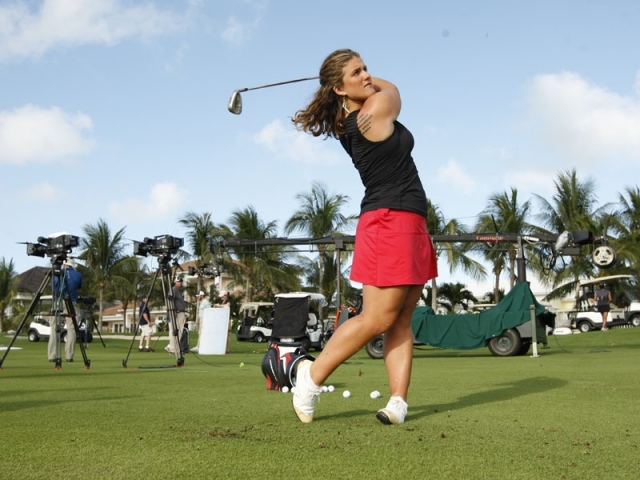 Anya Alvarez playing during the Symetra Tour
"Once you get to a professional level, getting sponsorships is extremely difficult. I thought I was gonna be ready to go," Alvarez said. "The media (are) not getting exposure on the LPGA. They focus on the PGA only, which ends up hurting our chances at getting sponsors and hurts our reputation."
Before getting her tour card, Alvarez had a tough time learning the game of golf. She was constantly put down by other men. At the golf range, they would offer their advice and opinions on her golf swing, even though she didn't ask.
"Here, hold the club like this."
"Stand at the ball like this."
"You're taking it too far inside."
"You're not using your hips enough."
"You swing too fast."
"You swing too slow."
"As a young girl who grew up in the golf world, I was oblivious to what sexism looked like," Alvarez said. "I didn't realize how even a slight jab toward my gender, such as, 'Goodness, you hit it far for a girl,' would impact me."
This doesn't just happen on the golf course. Some men enter­ing the pro shop failed to respect her golf knowledge until they were notified of her collegiate golf background.
Alvarez, who described the lack of merchandising in pro shops, pointed out that because fewer women golf than men, there's less clothes, gloves and clubs available for them to purchase. The absence of female-oriented merchandise often signaled a course that was not "female friendly." In addition, the appearance that women's merchandise is stashed in out-of-the-way places or located in less trafficked areas was discouraging for some of these women as well.
"They don't know how to cater toward women," Alvarez said. "In most pro shops, the merchandise area of women is displayed in a tiny little corner and then the men have an entire floor of stuff they can choose from. Women are made to feel not important."
Since the implementation of Title IX, more American women have been accepted in the sports world and are exceeding expectations. Such advances raise the possibility and the need for gender-integrated sports. Why is it that golf, a sport that encompasses abilities from young women to older men, still remains a "man's game," despite the strong efforts made by women professional golfers?
Physical barriers have mostly disappeared from the golf world and other traditional male-dominated sports, but the profound social and psychological barri­ers remain. When the term golfer comes to mind, many people immediately think of a man, requiring the phrase "lady golfer" for women.
Despite Title IX, women professional golfers still experience formidable challenges on and off the course, including harsh scrutiny and constant questioning from others about their golf abilities, such as their swing, driving distance and looks.
As only 20 percent of all golfers are women, the sex ratios between men and golf in this sport are extremely noticeable. Women are under so much pressure to feel "up to par" with the men that they play with. There might be some women who have shorter drives, but accuracy is a far better skill than distance. This type of social exclusion makes many women feel unwelcome, undeserving, discouraged and more likely to drop out of golf.
Sexism that women professional golfers experience can be seen anywhere from the interactions between golfers on the course and in institutionalized exchanges in the clubhouse between professionals and players. Golf is one of a few sports that's now involved in a gender equality debate. Martha Burk's protest at the 2003 Masters Golf Tour­nament, because of Augusta National's gender discrimination practices, as well as participation by women in the PGA Tour events, has elevated golf to new levels of scrutiny.
Muirfield, the Scottish club, the name of Jack's Memorial tournament venue, decided it would rather nullify its Open Championship status then have women enter the clubhouse. Their reasoning? Women shouldn't be allowed to play "historically significant" golf courses.
When a club like Muirfield refuses to have women members, the whole travesty emerges. Many men would probably love to be a member at such a prestigious club. But, the difference here is that they have the opportunity to, whereas women don't.
Why can't women join these clubs? Is it because some still don't understand the role of women beyond the idea of them being their nanny, the stay-at-home mom or the maid? Or is it because men want to swear, curse and talk dirty without having their wives bugging them?
On the other side of the debate, some claim that there's no such thing as sexism in golf.
As media coverage about sexism in the game increases, the The Royal and Ancient Golf Club of St Andrews is under intense pressure to change their policy toward the "good ol' boys' clubs" that continue to bar women.
Muirfield is one of three clubs on the Open's nine course circuit that persists with men-only membership rules. Their argument is that excluding women from clubs is not sexist, but part of "a way of life that some people rather like."
R&A Chief Executive Peter Dawson defended its men-only policy during a press conference in 2014 at the 142nd British Open at Muirfield in Edinburgh.
He said clubs who chose to keep women out "don't do anyone any harm," adding: "On the Saturday morning when the guy gets up out of the marital bed, if you like, and goes off and plays golf with his chums and comes back in the afternoon, that's not on any kind of par with racial discrimination or anti-Semitism or any of these things."
Gentlemen's clubs, such as the member's only Garrick club, fail to include women as well, despite attempts from women to join. For example, two years ago, the actress Joanna Lumley tried and failed to join the club.
Scott Walter, a professional PGA golfer, made his own fair share of comments on the issue of sexism in the golf world, too.
"We aren't closed-doors. Wives and girlfriends can come out and have lunch," Walter said in an interview with Sportskeeda.com, "Really, the only thing women can't do is play on the golf course."
Bear Creek is another example in the United States that doesn't allow women members. Others golf clubs, such as Muirfield, have the same policies, while many more make it difficult, if not impossible, for women to join. Everyone has their own opinions on this debate. Martha Burk would be boiling hotter than her morning coffee seeing this, probably getting ready to plan the next march. Men don't really care about this issue and usually don't comment on it because the media "isn't on our side."
Private all-male clubs has its reasons for their exclusion. There's no room for women because they want to play in peace without worrying about the "slow pace of play" with women golfers. It's easy to imagine what it's like at these clubs. Probably just a bunch of guys, potbellied and telling dirty jokes, while sitting around a luxurious clubhouse filled with mounted animal heads, slapping the butts of the "sexy" waitresses wearing skimpy outfits to serve them their liquor.
What's Next?
Should clubs be allowed to discriminate and choose who should play and who should not? Or should the state have the right to interfere, intervene and impose on a club a set of rules that it decides are 'correct and appropriate' in order to give equality to those who are denied access?
Mary Queen of Scots, 'The Mother of Golf, as she was known, was beheaded because she was playing golf while she should have been home mourning the death of her late husband.
In some ways, it's a parallel to what women golfers face today. You may not see their heads getting chopped off, but they still struggle to be on the same playing-field as the men.
"The Mother of Golf" is a powerful reminder of the true purpose this sport – passion and love for the game.
These questions haven't been answered, even though over the last decade it's been an ongoing issue that seems be at a stalemate. Some clubs have adapted to the progression, slowly changing their policies to allow women to become members of their clubs. But, some have not.
Annika Sorenstam, who has played on the LPGA for more than 30 years, believes that there needs to be more progression in the sport for women, but it isn't going to change unless professional women golfers stand up to organizations such as the The Royal and Ancient Golf Club of St Andrews (R&A) and the United States Golf Association (USGA), controls what they do, what they wear and how much prize money they can win.
"Nothing is going to change with sexism and golf unless someone in the LPGA speaks up. The USGA, which only has one female member on the board, isn't going to change any policies unless women golfers stand up to them," Sorenstam said. "When you're not welcome it's very short-sighted. These clubs are the ones who are losing out on the opportunity who don't include people. There has to be a change, but it must start from within."
Burk's attempt to force Augusta National to admit women into the club died that day in the mud, surrounded by honking applause. Women did not walk through the gates as equal members that day.
But, a national dialogue began after their protest and it became a catalyst for change, even though it took a decade to mature. There is little doubt that if she had not pursued the issue and kept it alive, women would still be barred from one of the highest profile "off-campus" golf venues in the United States, if not the world.
So, was a decade of struggle to open one golf club to women worth the effort? Was it worth the credible death threats, volumes of vile and vulgar hate mail and Burk's image on stickers at the bottom of urinals? For all it represented symbolically, Burk says the answer is an unequivocal "yes."
The gates of Augusta National became symbolic of all the ways women are still kept out of power where it counts. The cycle must be broken.
"The ruling bodies, the USGA, the LPGA, are controlled by men. The only way to make any kind of statement is if all the golfers refused to play," Burk said. "That was the same problem at Augusta, nobody on the PGA Tour would speak up. We're making progress in some areas, but it's at a glacial pace. Given the current leadership, women are in for a rough ride for the next three and a half years."