5 Women's Golf Tips for Beginners
Let me first congratulate you for deciding to take up the game of golf! It's empowering to see women take an interest in a male-dominated sport. It takes a lot of courage, determination and motivation to prove yourself on (and usually off) the golf course.
Not only does golf teach you life skills, but being outdoors in the fresh air and getting some good exercise is a great way to spend your day. But, fair warning: golf can test your patience, fortitude and determination. You have to go into it with the right mindset with the motivation to push through, even on your bad days.
Picking up a golf club for the first time in your life might be challenging, but it's worth it in the long run.
If you've never golfed before, you might feel overwhelmed or maybe you're excited and prepared to face the challenges ahead. Either way, I'm here to give you some women's golf tips for beginners on what to do, what to expect and how to prepare for your journey into the golf world.
Here are 5 women's golf tips for beginners:
Buying Golf Equipment
Golf Clubs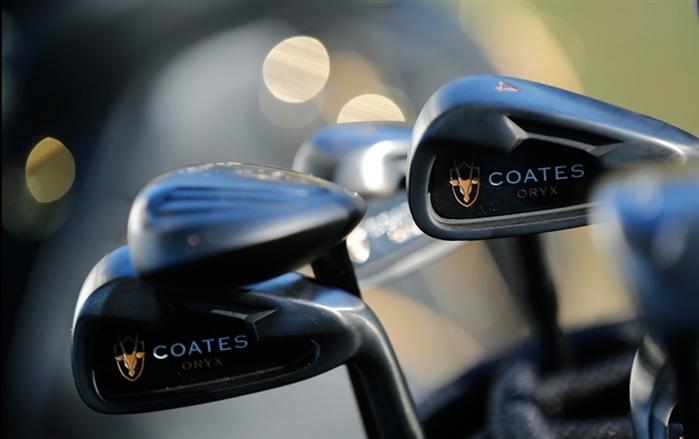 The very first step is to buy a basic set of golf clubs. You don't need to buy anything fancy as a beginner. Go to a sporting store, such as Dick's Sporting Goods or Golfer's Warehouse. You can test out some of their women's golf clubs and they will help you select the correct shaft for your swing. Select the flex type that feels best when you swing the club, then use that flex type for all your clubs.
Let me explain a little bit about what a flex in the golf shaft actually is. The flex in a golf shaft will impact the accuracy, trajectory and distance of every shot you play. There is a saying around golf that the shaft is the engine of the golf club. The only way to maximize the performance of your golf clubs is by harnessing the power of the flex in your shafts.
As an example, I started golf using the most flexible shaft out there because I didn't hit the golf ball as far as I do now. That's probably the ideal choice for women who are just beginning to play golf. However, if you find you have a fast swing speed, you will want to opt for a stiffer flex shaft.
Golf Balls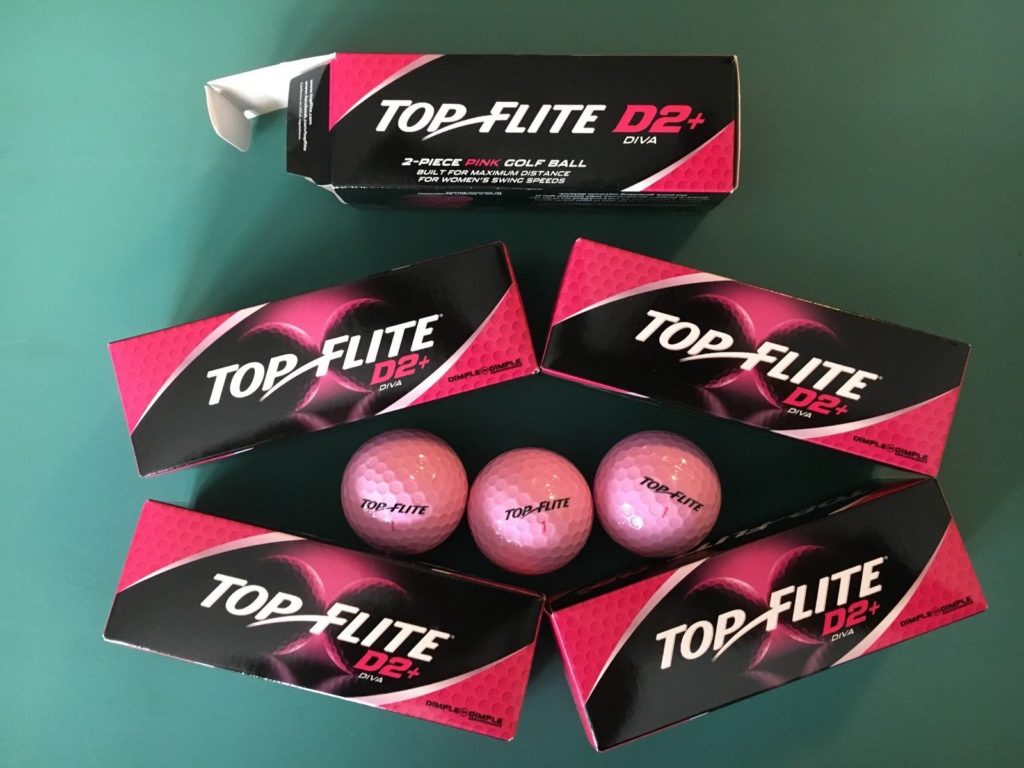 Want to know a little secret? The best golf balls for beginners are the least expensive. Yes, the Callaway pink golf balls are so pretty it makes you think twice about buying a cheaper brand.
But, keep in mind when you're first learning to play golf, you're bound to lose many balls. Even ten years later, I STILL lose them. It's an inevitable fact of golf.
There are ponds, lakes, and woods, among other hazards on the golf course. You're going to feel pretty down in the dumps when you open your first package of expensive golf balls and find that they all were lost by the 18th hole.
My advice is to use golf balls that fit your level of experience. Maybe use your friends old golf balls, or better yet, take some of the range balls while practicing at the driving range.
If you want your own brand new golf balls, then my suggestion is to go cheap. Find a brand that offers their golf balls for $15 or less that offer two-piece construction. This way, it maximizes the distance and reduces spin.
Learning to Play Golf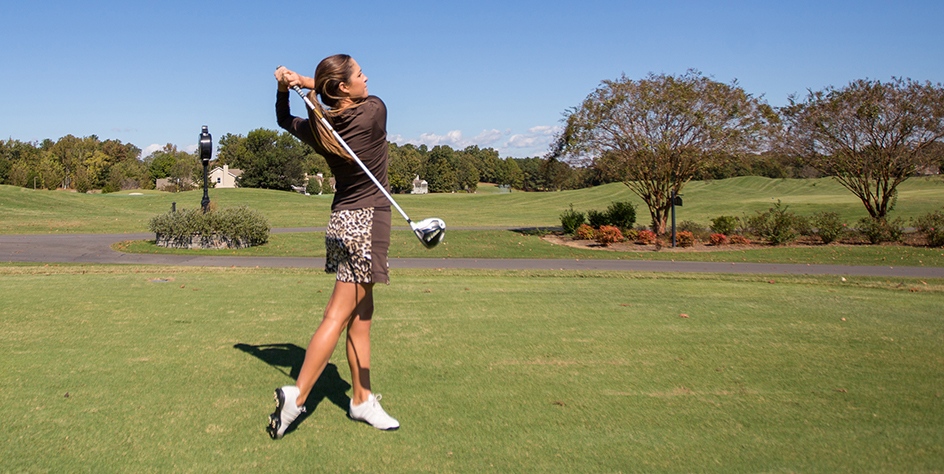 Once you've acquired your own set of golf clubs, it's time to use them! Start by learning the basic mechanics of the golf swing. This is the hardest part, but I know you can do it.
It takes time, so don't expect to get it down pat in a few weeks or even a few months. It took me many years of lessons and practice to feel confident about my golf swing. There's always room for improvement, so don't feel like you aren't making any progress if it takes you a little longer to get the gist of things.
There are four ways you can learn how to play: you can teach yourself, you can get help from a friend, join a league or you can pay for private lessons. I've done both and I think the combination of all four is a great way to learn.
It's great to learn how to swing your club from a golf professional. They know what they're doing and have been golfing for many years. However, it can be expensive. It can cost you anywhere from $100 to $200 per session. If money isn't a concern for you, this would be the best option, at least for the beginning.
Find a friend or family member who knows how to golf
The second way to learn is by finding a friend or family member who has experience golfing. If you ask for their help, I can almost guarantee you they will be thrilled. Its always nice to spend some quality time with a friend on the golf course who can give you great pointers.
Just keep in mind, it's possible you might feel pressured. If you do feel that way, ask them to step away and let you think about your swing without interruption.
This option has been the most beneficial for my golf game. Back in 2010, I joined the Rhode Island Women's Golf Association. I was 14-years-old and I really wanted to meet other girls who were interested in golfing. It was only $30 for the summer. I had the opportunity to learn from golf professionals, play in any tournaments they offered and made long lasting friendships.
From the bottom of my heart, I recommend finding a local league in your area. It's an amazing experience. At first you might feel timid because you're new to the game, but these women have been in your position before and they will be more than willing to help you learn.
If you aren't interested in any of the above options, you can always teach yourself. It might take you a little bit longer to learn, but it's free and there are many great resources online to help you (praise YouTube for this). The series that I watched that has helped me the most is called "Golf with Aimee." She has several videos about learning to swing your driver correctly, to putting tips. Here is one video that has helped me tremendously:
Preparing to Play
This is just a quick tip about preparing to play. Don't just walk onto the first tee and start playing. Before you set up for your first shot on the course, it's important to stretch. You can also take light swings with your clubs and hit some balls in the practice area.
Playing the Game
You've bought your golf clubs, you learned the setup of the swing and you're prepared to try out your luck on the course. This is great news! You've come a long way at this point.
My advice? Play on a short par-3 course for your first time. It's a little less intimidating, since the longest hole is probably only 150 yards.
Now, I'll give you a few tips on etiquette on the course. When you begin the round, determine who is going to hit the ball first. When you get to the fairway, whoever is the farthest away hits first.
Most likely, there are going to be golfers following your group, so it's important to play at a quick pace. Walk to your ball, assess your shot, select your club, take a few seconds to visualize your shot, take a practice swing and then execute your shot.
If you don't want to be pressured by the group behind you, offer for them to play the hole first. That way, they are ahead of you and you will have more time to focus on your game.
Scoring
Make sure to grab a score card and a pencil from the clubhouse before beginning your round. Determine which tee box you are going to play from, whether it's from the red, white or blue. Take note of the distance from that specific tee box to help you determine which club to use.
You count one stroke for every time you hit the ball. If you happen to land your ball in a hazard, you can drop another ball near the hazard and take a one stroke penalty. In stroke play, the fewest strokes in the round wins the match. Whoever ends up with the lowest score wins the round.
***
I hope these 5 women's golf tips for beginners has helped you understand how to play the game of golf. It's a wonderful sport, full of ups and downs, but it's a game worth playing.