Best Women's Golf Clubs 2019
Purchasing women's golf clubs is a major investment. For any women golfer, the two major concerns to buying a set of golf clubs is the price and the quality. You want to find a set of women's golf clubs that fit and enhance your specific swing.
You also might be looking for a specific brand or certain specifications, encompassing all of the latest golf technology. Not only that, but you have to consider the price of the golf club set.  But, you can still get one of the best women's golf clubs, even on a budget.
Due to the increasing advancements in golf technology, there are several makes, models and sizes that are now offered.  It can be a daunting process to sift through all of the options available to you. (Note: if you are a beginner golfer you're going to want to opt for a full set of golf clubs, rather than buying individual clubs).
If you're looking for aesthetics, there are plenty of attractive pastel colors that would appeal to you. However, you aren't limited to just pink or purple clubs. There are many other options offered, which I will discuss in more detail.
Listed below are some of the best women's golf clubs in 2019:
Standard Women's Golf Club Sets
Let's start with the basics. Standard golf club sets for women usually have three woods, seven irons, two wedges and a putter. The woods are the 1-driver, the 3-wood and the 5-wood. The seven irons are the 4,5,6,7,8,9 and the pitching wedge. It also comes with a hybrid and a putter, which comes to a total of twelve clubs in a set.
A woman's golf club set often has more hybrids which is actually a combination of wood head design and iron length shaft. They are not as difficult to hit as traditional irons. Hybrids are my favorite golf club, but everyone has their own preference. If you're unsure, you should test out your irons and hybrids at the range to get a feel for each club to determine which you would like to use more on the course.
What's the Difference Between Men and Women's Golf Clubs?
There are some differences between men and women's golf clubs that's important to know before buying any set of golf clubs. The reason for these differences is due to how our body types differ and the mechanics behind the golf clubs. There are some variations that help us swing a little bit better than we would with men's golf clubs.
Here's a list of the differences:
Shaft: The best golf clubs for women are made of graphite which are lighter than the steel shafts of men's club sets.
Shaft Length: Most women are shorter than men, so it's best to have shorter clubs to have a great swing. This will assist you in maximizing your swing power and ball control.
Shaft Flex: It is the amount of bend in the club. It is a very important criterion to consider especially for beginner who requires more flex. Ladies shafts come with two labels. The label 'L' flex are the springiest and difficult to control without practice while label 'A" are less flexible.
Grip Size: Owning to females having smaller hands than men, ladies golf club sets come with smaller club grips to help you have a firm and steady grip while swinging.
Loft and Weight: Ladies golf sets are lighter and have a higher loft. Lofts of 13 degrees or more is a good start. The driver heads are also smaller and lighter in ladies golf sets.
Without further ado, here's a list of the 5 best women's golf club sets in 2019:
Coates Golf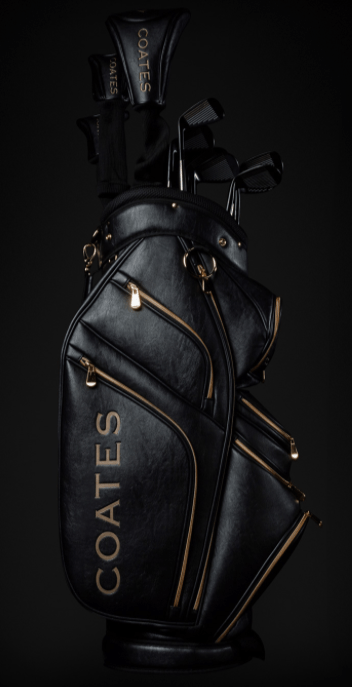 Coates Golf was created with the intent to develop a line of golf clubs for women where performance, rather than forgiveness, was the focus. They specifically engineer their clubs for the female swing. Now, women can truly customize a set of clubs to fit their game at any level.
Pros:
Unbelievable forgiveness
Complete customization for your swing
Great trajectory and loft
Beautiful, sleek design
Note: Unfortunately Coates Golf is no longer making any golf club sets. However, you can find their clubs on Amazon – click here. You may also want to read my in-depth review of their clubs here.
Callaway Women's Solaire 11-Piece Golf Set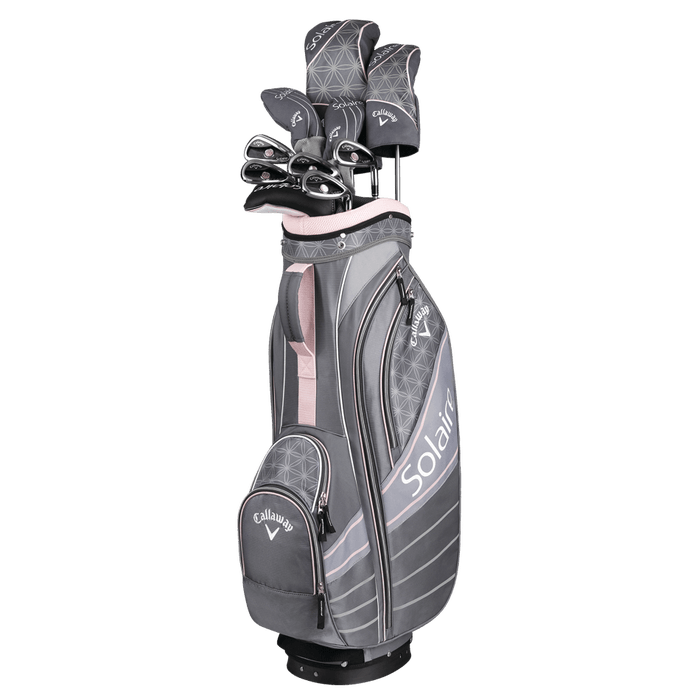 The Callaway Solaire 11-piece set has a premium design, fit, and performance to help you hit your best shots. This set is specially designed for the recreational golfer. Forgiving with maximum performance, you can't go wrong with Callaway!
Pros
The clubs are designed to deliver an excellent ball flight.
Callaway Solaire club's shafts are made of graphite.
The golf clubs have an excellent grip.
Tour Edge Moda Silk Golf Set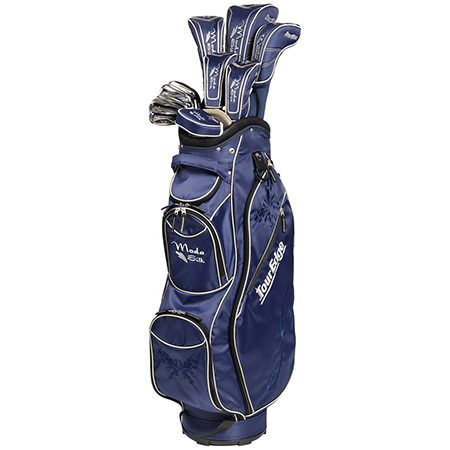 Tour Edge's Moda silk 20 piece golf set is made of a lightweight graphite shaft, and they are well balanced to deliver excellent gameplay. These pieces come in an amply sized bag with zippered pockets.
Pros
The set comes with a lifetime warranty.
Tour Edge Moda's graphite shafts are durable.
The sect comes with bonus headcovers.
Cleveland Golf Bloom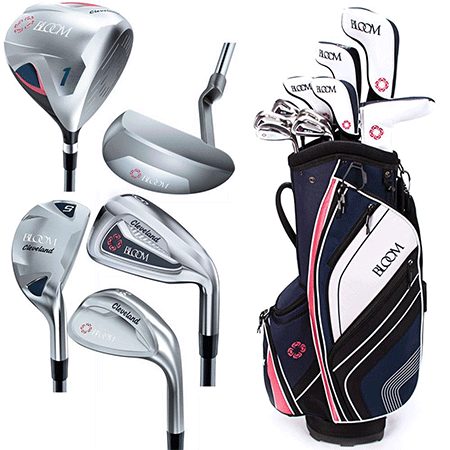 Cleveland Golf bloom is great for beginner and intermediary golfers. Like other golf sets, Cleveland golf bloom comes with a pitching wedge, seven iron, driver, three wood, 5I hybrid, sand wedge, eight iron, 6I hybrid, putter, and nine iron. Not to mention, the golf bag is super cute!
Pros
The golf clubs' are lightweight
Cleveland golf clubs have a classic look.
Cleveland's hybrids deliver a high trajectory launch.
Believe Ladies Golf Set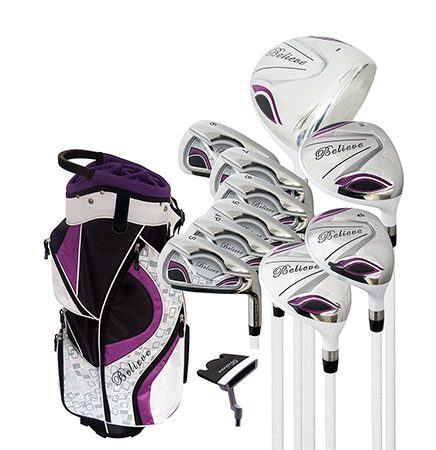 Believe's golf set comes with clubs that deliver high performance and ultimate forgiveness. These pieces come in a stylish cart bag with zippered pockets and a 14-way divider for organized storage.
Pros
I hope this list of women's golf clubs helps you narrow down your choices!