#TEAMFORAYGOLF
FORAY GOLF is a new modern golf fashion company looking to make a progressive change in women's golf apparel. Their main focus is to remove the barriers that keep women and girls out of golf by supporting freedom of expression. The company was founded in 2016 by fashion industry veterans who love the sport of golf. Their goal for us women, similar to my own message as well, is to empower women by providing opportunities and tools to be the best version of themselves on and off the course.
In a previous article, I talked about the LPGA's updated dress code, which restricted LPGA pros from wearing "short skirts, racerback tops, and leggings," among other things. The discussion of this topic hit the fan, quite literally. Even our favorite star, Lexi Thompson, protested against these rules by posting a picture on Instagram that got a lot of attention, even from those outside of the golf world.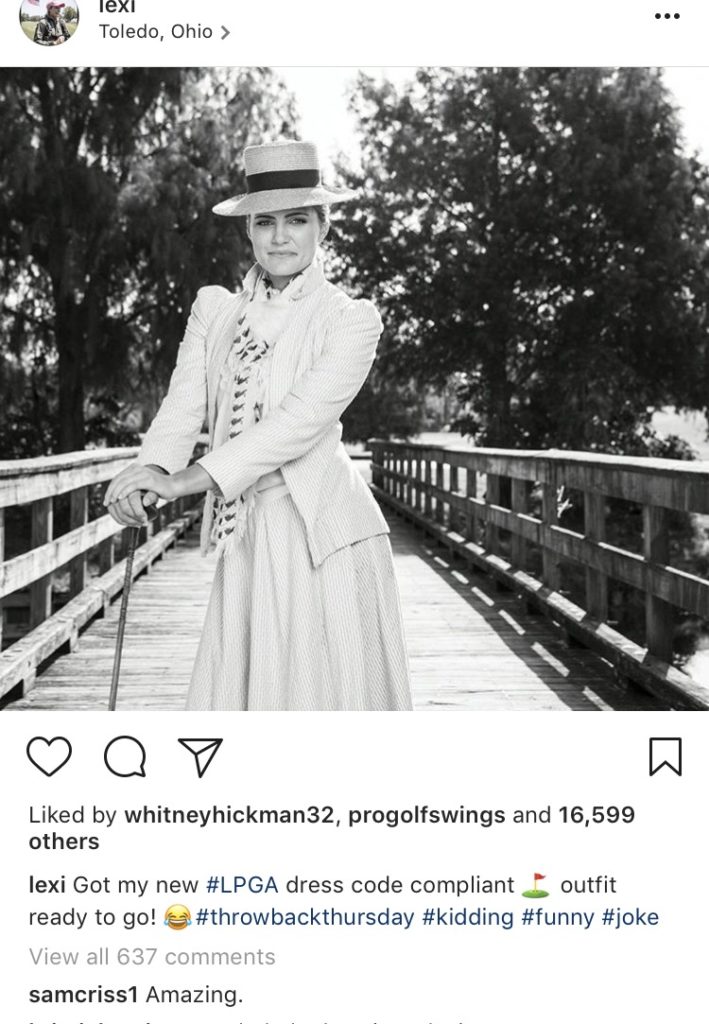 The consensus was that this felt like a moment where the LPGA could've moved forward, made golf look cooler, more athletic, more accessible. But instead, progress for women golfers was paused. The conversation makes the creation of a new women's golf apparel brand very timely.
Founder of FORAY GOLF, Megan LaMothe, wasn't a kid who grew up playing golf. She's a proud first-generation golfer. When she started dating her now-husband and found out he's a golf nut, she decided the heck with it and joined him for a date at Chelsea Piers, a driving range in New York City.
"He showed me a few things and said get in there," LaMothe remembers. "I got into the bay, and swung. It just flew. It was one of those shots. One of those moments when you hit it pure and you feel it through your whole body. I was hooked."
As any golfer knows, that's the kind of moment that'll make you want to come back for more. Whenever she had time, LaMothe was running from her apartment down to Chelsea Piers, hitting a bucket of balls, and running home.
When LaMothe started playing more, she noticed something many women notice when they go to a golf course and walk around the pro shop: Where are the women's clothing options?
"I remember buying my first pair of golf pants," said LaMothe. "They were bad: khakis that had no stretch. You'd pick up your ball and it'd cut in and be unflattering, or they'd slip down and give you plumber's butt. The skirts wouldn't fit right, either. The pockets were in the wrong place, the spandex shorts underneath would ride up."
And, of course, she was overwhelmed by how much pink there was. To go from wearing spandex at the driving range to khakis on-course was a disappointing transition.
Here's where LaMothe is different from many women who face this same frustration: She had the background to enable her to do something about it. LaMothe worked for Victoria's Secret as the Director of Design Operations. Foray's Chief Creative Officer, Andrea Ashton, was also at Victoria's Secret. Ashton was the Design Director for Body by Victoria.
"Coming from Victoria's Secret, we were obsessed with fit," says LaMothe.
I completely agree and support her position on women's golf clothes, which is why I found it important to feature her amazing collection on my website. In addition, they offer from XXS – XL, which is really awesome because I RARELY see XXS anywhere (which is my size).
I'm going to review FORAY GOLF's three major golf apparel collections in 2020, and some of my favorite pieces within those collections.
Golf Apparel Collection #1: America 2.0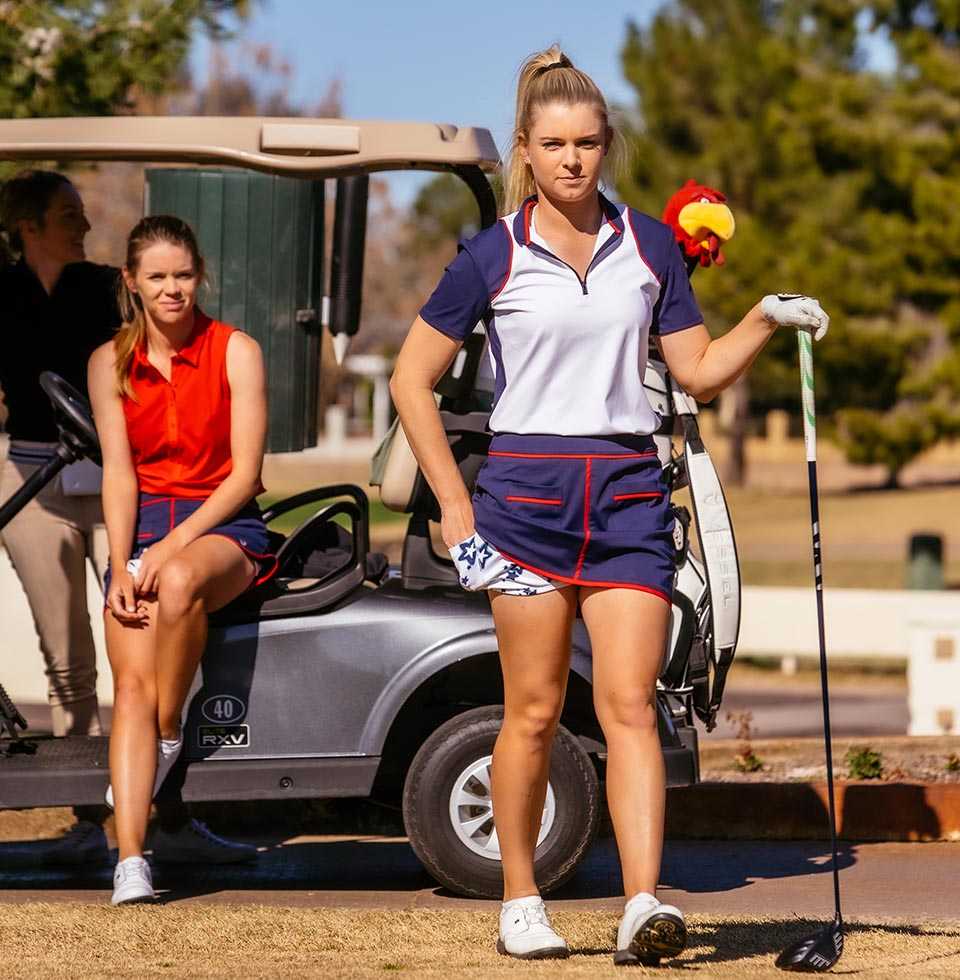 Wait, is there an EAGLE on her shoulder?! Now that IS Patriotic. I really like the red, white and blue theme going on here (especially since the 4th of July is on its way). It's also fitting that they make all their apparel under this collection in the USA. View their limited edition AMERICA 2.0 Collection.
America 2.9 Star Perf Polo – $120.00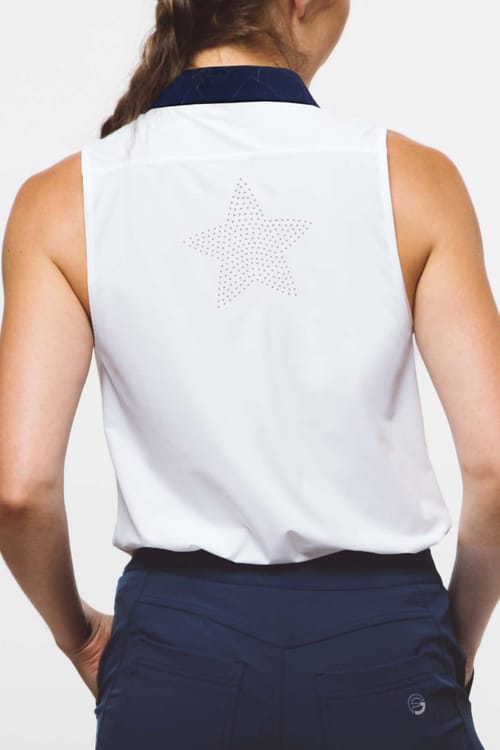 Star Power! Foray Golf created a new custom star perforated version of their best selling Core 2.0 Sleeveless Polo.
Made from best in class 4-way stretch, wrinkle resistant Italian jersey. Features a high-low shirttail hem, bonded button placket and laser-cut center back logo. Breathable, moisture wicking and quick drying, with UPF 50 sun protection. Laser-cut star detail in back.
There's not many of these left, so if you like it, make sure to act fast! View here.
America 2.0 Skirt – $160.00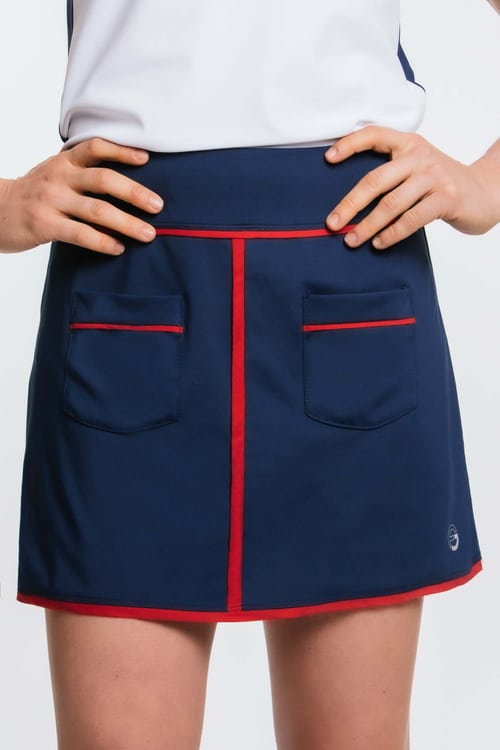 I'm dying to get my hands on one of these skirts. It's a special edition of only 125. You can "celebrate America in style" with their patch pocket, contrast piping skirt, featuring playful star printed sneaky pocket shorts. View here.
Foray x Asher Golf Glove – $35.00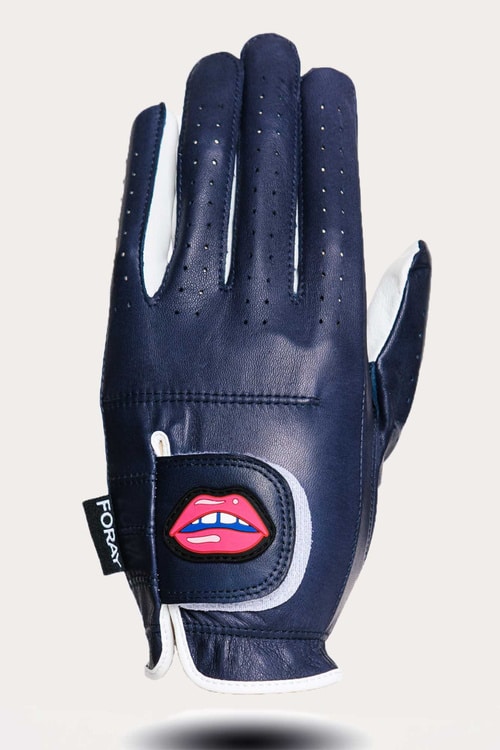 Now THIS is a glove that screams cute!  This premium glove delivers high tour-grade quality materials: 100% Precision cut AAA Premium Cabretta-Leather, Glove-Keeper Ziplock Packaging to keep your glove fresh between rounds. If you like the "lips" look, they also offer a lips logo hat and lips logo crew sweatshirt. View here.
Golf Apparel Collection #2 – Day Glo
Want to add a little bit of neon flair to your golf wardrobe? Then Day Glo should be your go-to collection.
Clean Up Nice Reversible Jacket
Cop Foray Golf's lightweight, water-resistant, reversible nylon & mesh jacket– it's a great piece to wear, rain or shine. The drop shoulder and relaxed fit add flexibility. View here.
Marl Sleeveless Polo & Skirt – $120, $160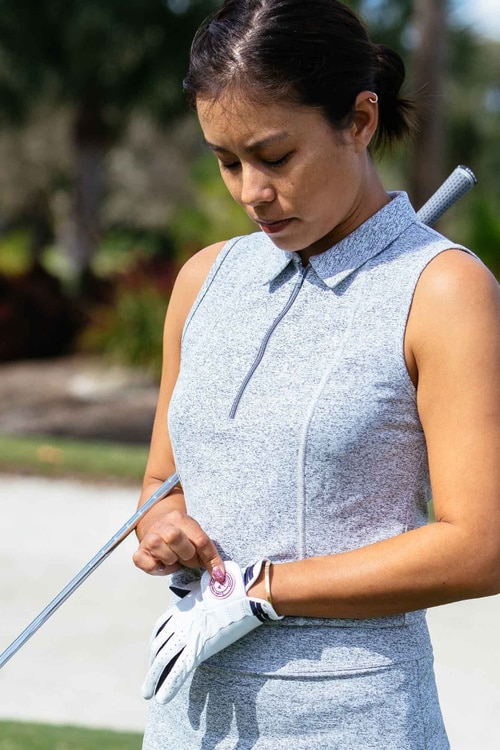 This whole outfit looks incredibly comfortable!
The Marl jersey sleeveless polo with self-collar, comes with a matching zip front placket and princess seam lines that flatter all body shapes. The engineered high-rise side seams keep underarms feeling fully covered. Pair that with the Marl skirt, which offers neon-accented solid & micro-perf blocked skirt with attached neon sneaky pocket short. And of course, like much other golf apparel these days, it's moisture-wicking and provides UPF 50 sun protection. View the
Marl polo
, and
skirt
here.
Golf Apparel Collection #3 – In The Fold
There's really not much to this collection, which is why I'm covering it last. They offer a rib mock neck shirt with an accompanying polo, and a sweatshirt.
Rib Mock Neck Shirt & Skirt – $120, $160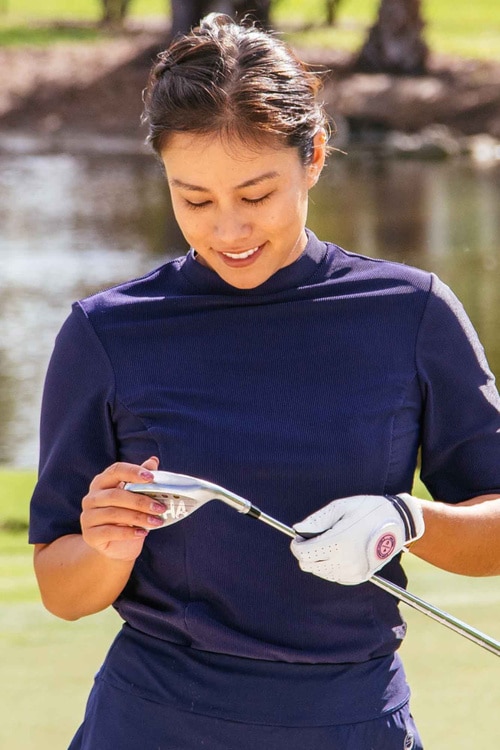 I can't decide if I like this shirt or not. The collar and sleeves are too high and too long for my taste. But, maybe that's the point.
It comes with a mock neckline and sleeves that hit just above the elbow. Made from 4-way stretch, wrinkle resistant performance rib. Breathable, moisture-wicking, and quick-drying.  View the neck shirt and pleated skirt here (there's only a couple left).
Colorblock Cashmere Funnel Neck – $200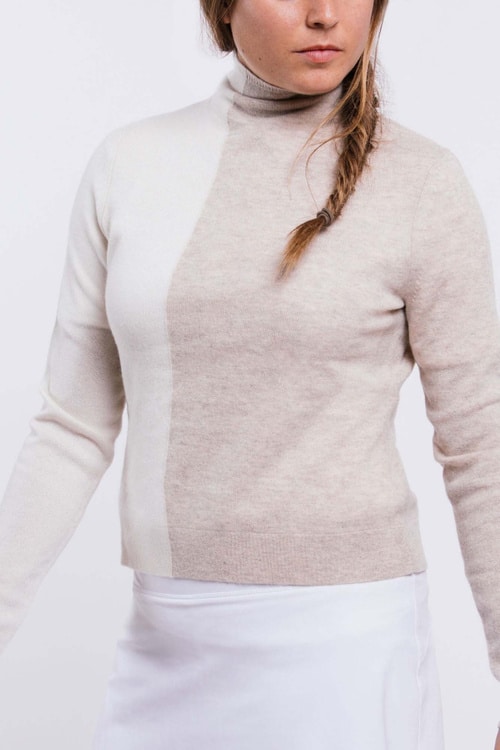 For those of you who get cold on the course like me during the early morning hours, this is a great option.
Colorblocked funnel neck pullover sustainably sourced and produced in Kashmir. Soft, mid-weight Mongolian wool/cashmere blend made with natural and biodegradable dyes in an environmentally certified facility. View here.
If you want to learn more, check out Lauren Thompson's review on the latest signature patterns in women's golf apparel by Foray Golf.