Founders Tami and Dianne created KINONA  because they quickly realized that most women's golf clothing on the market was unflattering. No matter your shape or size, every woman deserves to feel great on and off the course. That's where KINONA golf apparel comes in. 
KINONA makes flattering women's golf apparel that can be worn on and off the golf course. That's what really sets them apart from the rest of the golf fashion companies. They create clothing with you in mind. No more boxy fits. No more curious color-blocking. KINONA is designed for your real wants and needs. Whether it's golfing, working in the office, or having lunch with friends, their clothing is suitable for almost any occasion. All of their Italian fabric offers UPF 50+ that blocks 98% of harmful ultraviolet rays. Clothing with UPF is ideal when spending hours on the golf course under the hot sun. 
I'm now going to review three pieces from KINONA's 2020 golf apparel collection.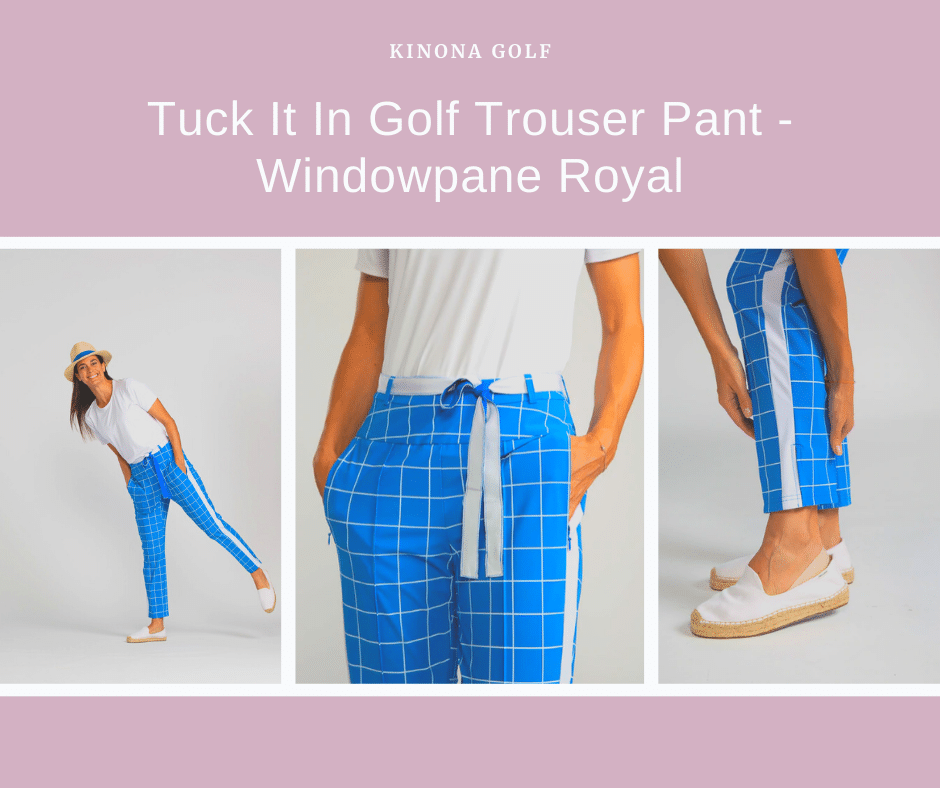 I have to review this piece first because it's my absolute favorite. I was so happy when I received this in the mail. "OMG" I said to my boyfriend. "These pants actually fit my shape really well!" It's incredibly stylish and comfortable too.
As mentioned earlier, their women's golf apparel is made from Italian 4-way stretch fabric with UPF 50+ sun protection and is designed for easy care. The Tuck it In Golf Pants feature two off-seam front pockets, two patch pockets in the back, and is perfect for you "tuck-er in-ners." They even threw in a cute grosgrain belt to accompany these women's golf pants!  
This piece received endless positive reviews:
"Fabric is great, fits true to size. Very flattering even with the large windowpane pattern. The length was a concern as I am petite but it was perfect. Keep 'em coming Kinona!"
"Fun, flattering, great fabric! A bold statement piece for the golf course. This is the perfect fabric for golf pants. I am petite and the length worked perfectly. Fits true to size. Who cares what your score is when you feel so great in these pants! I am a Kinona convert."
I usually don't wear pants because they never fit me as expected. So if you're petite, don't worry about the fit, because the trouser pant is true to size. Usually, I have to get my golf clothes hemmed, which is such a pain to do. I didn't have to with this one!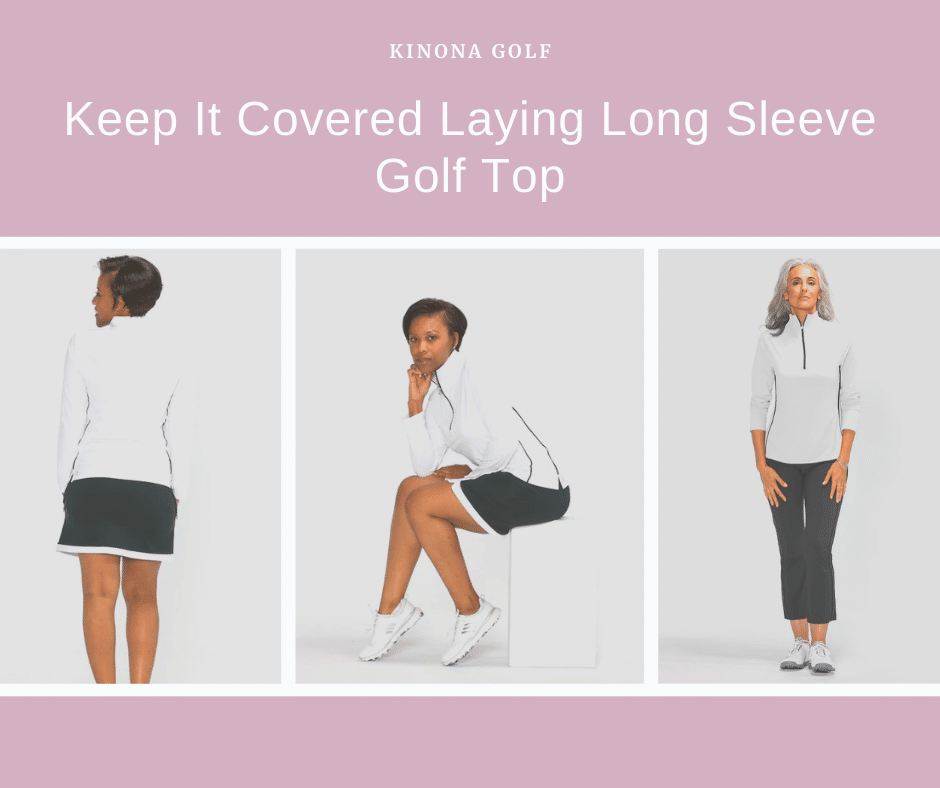 Looking for the perfect long sleeve women's golf shirt to wear during those chilly mornings? The fabric of this golf shirt for women is lighter than that of other KINONA women's golf clothes to allow you to layer it easily under the stylish women's chill killer jacket or a vest. This golf shirt is also functional! Like other KINONA women's golf shirts, it wicks away moisture, is antimicrobial and can be washed and dried. The 1/4 zip neckline of this long sleeve golf shirt can be zipped up or worn open. 
I wear this piece most often outside of the golf course. Unfortunately, these trying times barr many of us from golfing, but this piece can be worn when walking, running, biking, or during any other outdoor activity.  I love getting up at 6am to go for a jog with this lightweight long sleeve shirt!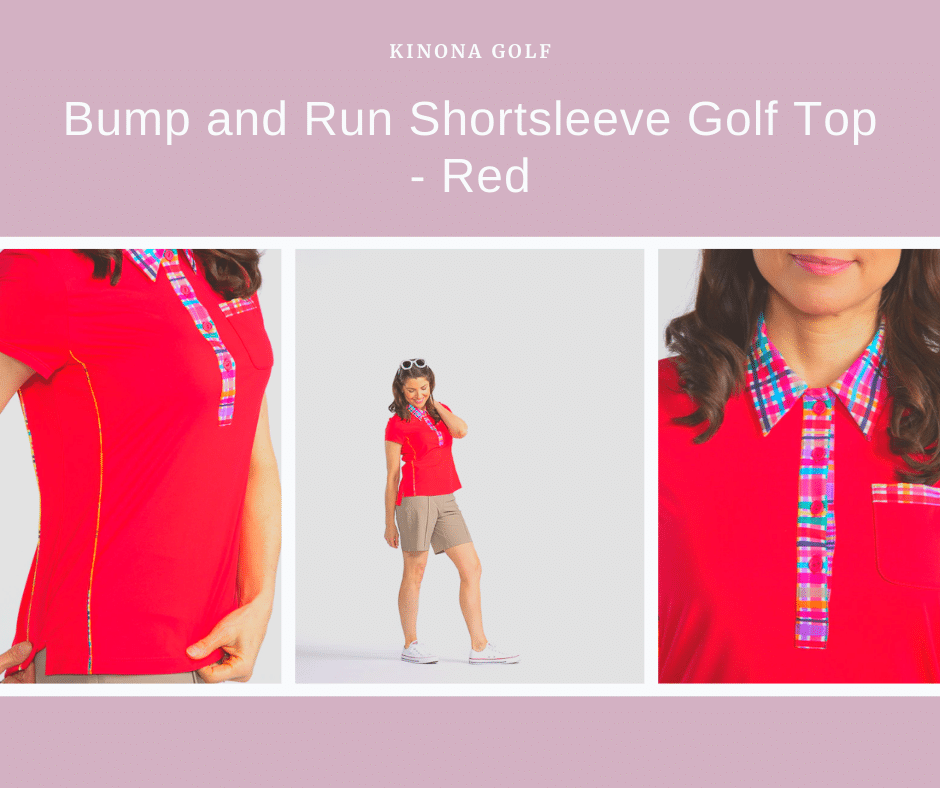 Finally, a polo that looks like it was designed for a woman! The Bump and Run short sleeve polo top sports a flattering elongated placket, princess seam lines to give you some shape with sleeves that hit you at the most flattering part of your arm. The shirttail design allows this shirt to be worn as an "inny" or an "outty" while still looking polished and put together. The 4 way stretch Italian fabric is moisture-wicking and breathable, even on the hottest summer day.  
I received this polo in the color red (which isn't my favorite color as it does not match my complexion well), but I do like this shirt and its design overall. If you aren't into red, it's also available in Flamingo and White. Again, their apparel is true to size. I felt very comfortable wearing it. Also, if you want to match this shirt to create a full and unique outfit, check out their Mad Plaid trouser.
Why KINONA?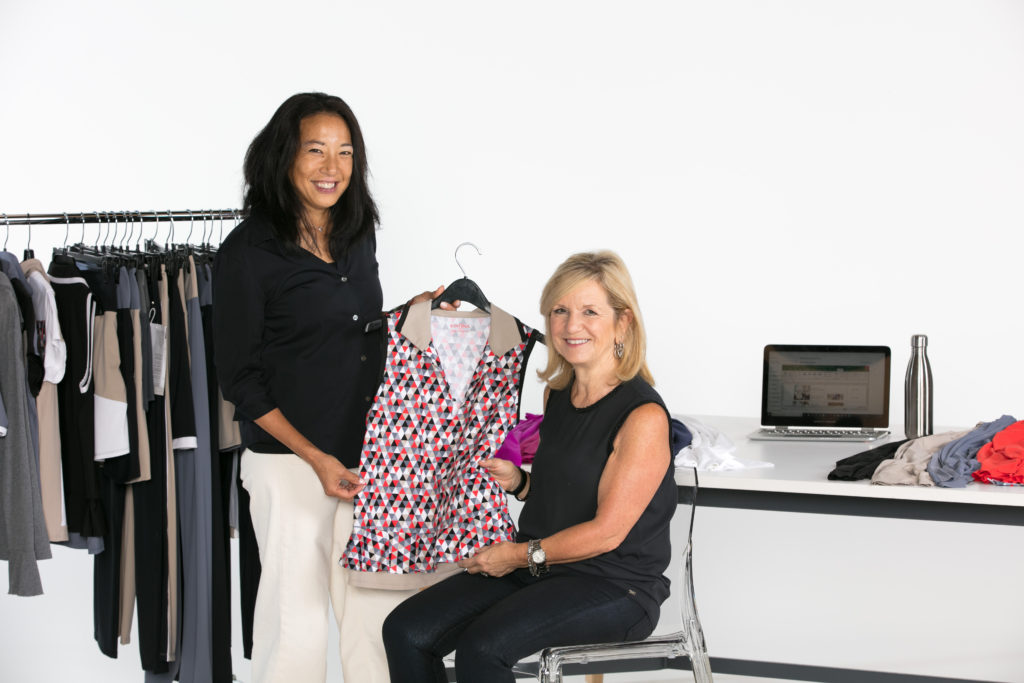 KINONA is a woman-owned and operated company whose mission is to support other women (whether you golf or not). KINONA's partnership with The First Tee focuses on growing the sport amongst girls and young women. They have not only donated some of their apparel but also provided The First Tee with professional mentorship and development opportunities. 
This is something I really appreciate. I have worked with The First Tee in the past while writing my thesis on Women and Sexism in Golf. I learned a lot about their values and the positive impact they have on young people. The First Tee offers character education programs at golf courses, elementary schools, and youth centers in all 50 states. 
If you're interested in learning about founders Tami and Dianne, click here for my interview with them. They are so nice and have some really admirable core values that align well with their brand. Also, be sure to follow them on Facebook, Twitter, Instagram, Pinterest, & LinkedIn for their latest golf fashion apparel! 
**(PS – I know I usually post pictures of me wearing the outfits on the golf course, but due to COVID-19, it's difficult to find a course to play on right now. I will be posting pictures in the future on my social media once my golf club opens up. Hopefully within the next month!)**