You may have read my previous article on various women's luxury golf apparel brands, and as you may know, I only focus on reviewing women's golf apparel that brings superior quality, fashionability, and comfortability to the links. Recently, I had the wonderful opportunity to try out L'Etoile Sports golf apparel, and I was very impressed with what they had to offer. 
To give some background on the company, L'Etoile Sport is an American sportswear brand that fuses chic fashion with function. The collection, known for its clean lines, luxurious fabrics, and classically modern designs, includes tennis, golf, and activewear. 
The only thing worse than playing a poor round of golf is doing so while wearing golf clothes that are unflattering and uncomfortable. L'Etoile Sports golf apparel exceeds all expectations.
Look better, feel better, and play better with L'Etoile Sport luxury women's golf apparel. Here are some of my favorite pieces from their golf collection.
Golf Skort With Buttons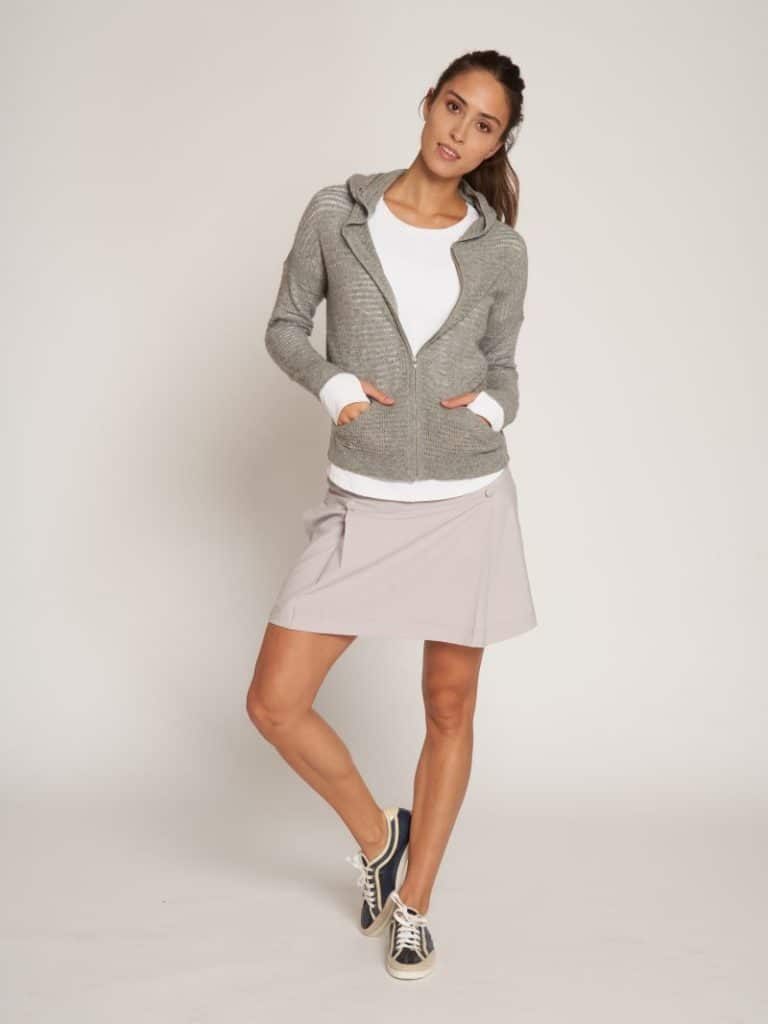 Gorgeous fabric and fit make this chic yet functional skort a wardrobe staple for golf lovers. The front buttons and its flexible material are perfect for golf movement, while the small pocket in the back is perfect for tees and golf balls.
As soon as I opened the package out of the mail, I was excited to try them on. The material felt marvelous in my hands. I could immediately tell that the quality of the fabric was superb. The waistband is incredibly flattering, comfortable, and easy to swing in. 
Take a look at one of their customer reviews left for this skort (and about the brand itself):
Putting aside that I am small and your golf and tennis attire fit me that is not the only reason L'etoile has become my go-to brand for sports. Two things that make a brand successful is the product, which in this case speaks for itself, and the people behind the brand name. The service can't be beaten, someone always gets back to you quickly by email or call and they always try their best to solve any issue. Can't ask for better than that.
Short-Sleeve Striped Polo
Contemporary yet classic, this short-sleeve stripe mesh polo is made from nylon, lycra luxurious Italian yarn. The design was enjoyable, the collar is extremely comfortable, and it didn't feel boxy or scratchy. It was loose enough for breathability, but not too loose where it would look baggy. 
I wore this polo with the golf skort (mentioned above) to my local golf range a few days ago (somehow they are still open but with several restrictions of course) and I was immediately complimented by another woman. It definitely makes you feel good when you go to the links and other people notice what you're wearing. That just attests to the quality and style of L'Etoile's golf clothes. I truly can't wait until the courses are up and running again so I can show it off even more! 
Windbreaker Hoodie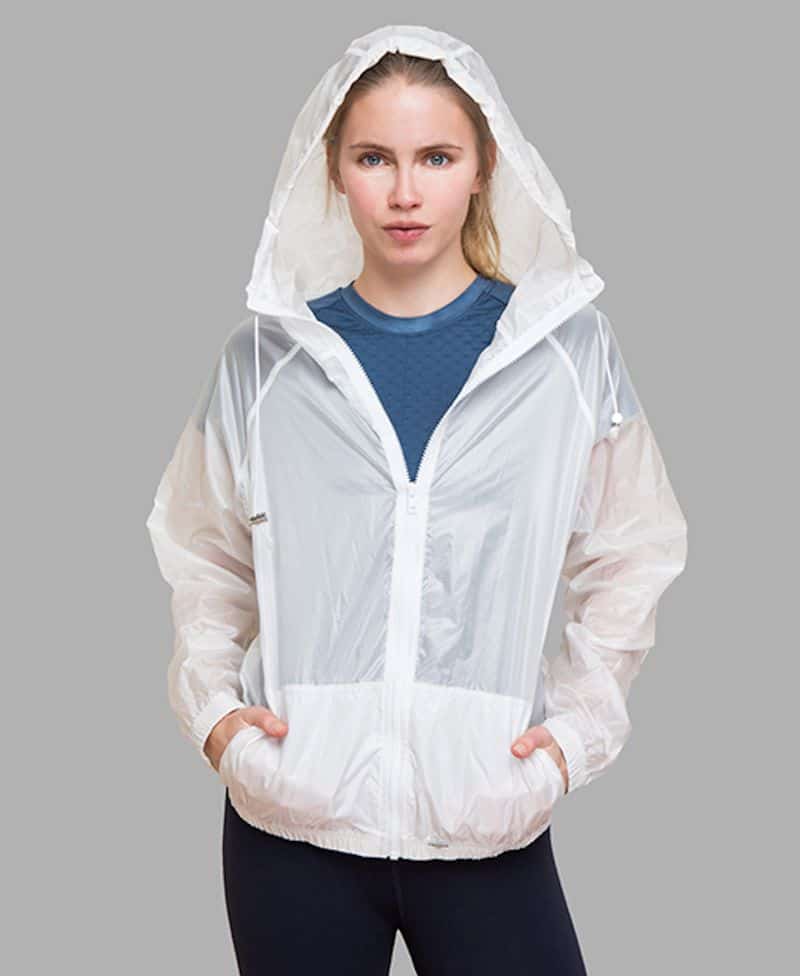 Golfing in cold, windy weather? Staying warm is important on the golf course. Play your best during those windy weather days with L'Etoiles Windbreaker Hoodie. This jacket shields your upper body from the cold winds and offers outstanding wind resistance and breathability.
I've always been a huge fan of windbreakers. Being from New England, and golfing right on the water, the wind can get intense. Sometimes I feel as if I'm going to blow away! I've tried searching for women's golf windbreakers online, but nothing has ever struck me as fashionable, functional, AND comfortable. This one hits all the marks. (They also offer a white/neon color if you're looking for a pop of color). 
Long-Sleeve Cashmere Hoodie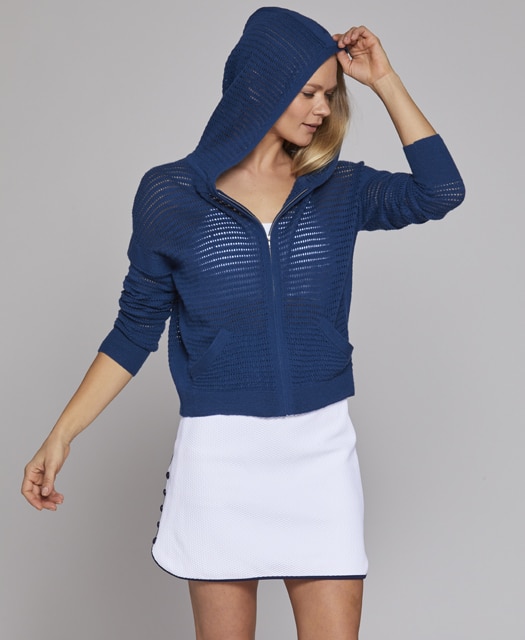 Spring doesn't mean the weather's nice all the time! It's not quite warm enough to hit the links in a sleeveless top, but it's also not too cold where you would have to wear a heavy jacket. This cashmere hoodie is the perfect in-between and will be a great addition to your golf outfit. 
Designed for the golfer seeking the best in form and function, this premium cashmere sweater provides a comfortable, stylish, and superior feel. This is one of my favorite pieces from their collection, as I am ALWAYS cold. I also like the fact it's multi-functional, as this is something I would wear both on and off the course. 
Perforated Leather Golf Visor
The summer months will be here soon, so it's time to prepare for those sunny days on the golf course! This adjustable navy white perforated leather visor with the embossed L'Etoile Sport logo is perfect to shield your eyes away from the sun, while also looking fashionable.
I'm usually not a fan of hats or visors, because they just feel terrible on my head. Sometimes I'll get headaches because it's too tight, or it will deteriorate quickly due to the low-quality material. However the league I'm involved in (RI Women's Golf Association) highly recommends using a visor or hat during the summer months, so this is one I would happily invest in. It gives a sophisticated and stylish feel, without compromising on quality.
About L'Etoile Sport
L'Etoile Sport is an American sportswear brand that fuses fashion with function. The collection, known for its clean lines, luxurious fabrics, and classically modern designs, includes tennis, golf, and activewear. The silhouettes worn by early female tennis players and the sport's enduring glamour are constant inspirations for L'Etoile Sport. 
"Play all day" is the company motto, a nod to the collection's multipurpose, on-and-off-the-court appeal. The rapidly-growing company launched in summer 2012 at the Meadow Club in Southampton. Its elegance, comfort, and understated chic have resonated with tastemakers from the beginning.
About the Founder and CEO Yesim Philip
Yesim Philip is the CEO, creative director, and designer of L'Etoile Sport. An avid runner and tennis player, she grew up in Turkey, where she played professional basketball. Her athletic background and personal style inform all of her designs. "I wanted to have the same feelings about my clothes on the court as I do off the court," she says. Yesim lives in New York City with her husband and three children. She is a dedicated member of the Central Park Conservancy Women's Committee.
The Bottom Line
If you're looking for luxury women's golf apparel, look no further than L'Etoile Sport. I'm a huge fan and will continue to be a customer in the future. Visit them at https://www.letoilesport.com/ to check out their golf, tennis, and activewear apparel items!