Five Reasons to Take a Golf Cruise
What's better than having the experience of golfing and traveling? A golf cruise is the best way to reach some of the world's best and most remote golf courses and have a fantastic travel experience to talk about when you get back home.
Here are five reasons you should consider taking a golf cruise:
You can check off some bucket-list golf courses
Every golfer has a bucket list. A golf cruise is the perfect opportunity to play some of the most beautiful golf courses that you've been waiting to play all your life.
You'll make new friends
On your golf cruise, you won't just make incredible memories. You'll also make incredible friends. You've booked this voyage because you love travel and golf. The people you meet will share those passions with you and you'll be able to socialize and make memories that will last a lifetime.
You can appeal to everyone's interests
Golf cruises always offer something that's going to appeal to someone's interest. Whether it's the beautiful destinations, the private lessons from a PGA Professional, playing at some of the finest courses or enjoying the cocktail parties that await you – you'll be able to find something that will appeal to your needs!
You'll visit some of the most beautiful destinations
Ever dreamed of golfing in various states and different countries? This is your perfect chance to experience different cultures, food and people, while having the opportunity to play on some of the finest courses in the area.
You'll make everyone back home jealous
Who wouldn't be jealous that you're on a cruise and you get to golf on championship courses around the globe? Make sure to take a ton of pictures and post them on your social media so everyone back home can see how much fun you're having (especially if you have the unfortunate luck to be in a cold area such as New England)
The Oceania Golf Cruise Experience

Golf cruises features exceptional experiences that you won't find anywhere else. These features set your travel experience apart from the usual – and will make your friends and family back home jealous.
The Oceania golf cruise checks all the boxes for a perfect vacation that will please everyone. Play some of the best golf courses in the world and experience the game like never before. Have an immersive, exciting travel experience that you'll remember forever.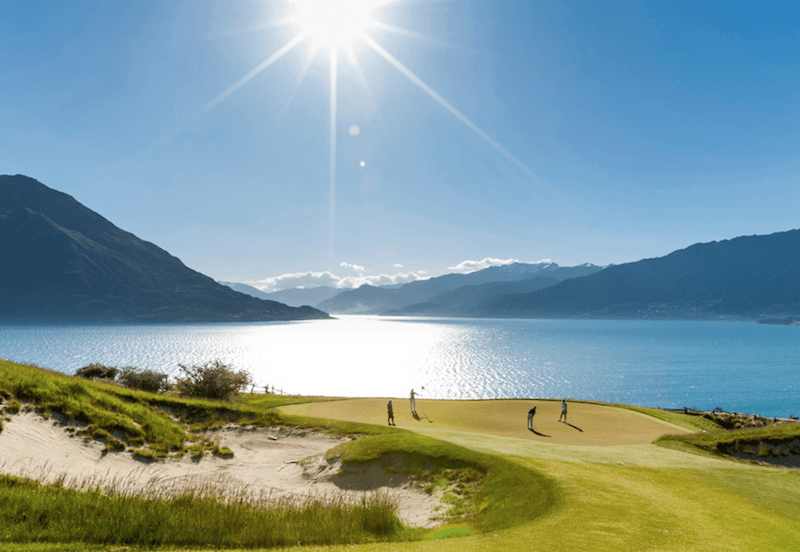 They offer a unique voyage featuring rounds of golf in the finest golf courses in four ports, two golf at sea seminars and exclusive cocktail receptions all hosted by a PGA Professional.
Amenities
A dedicated PGA host that will oversee the details of your golf experience
Up to 5 rounds of championship golf in New England, Canada and Bermuda
Championship courses include: Newport National, Brunello Links in Halifax, Granite Links Golf Club in Boston, and Port Royal in Bermuda; optional play on day two at Tuckers Point Puma/Cobra featured golf clubs on board plus order your new clubs at special discounted prices for Club Corp members
Goslings Rum Dark & Stormy reception event
Welcome and farewell cocktail receptions
Day by Day Itinerary
Day 1: New York. Today you embark at 1pm from NY and set sail to begin your cruise. Special welcome cocktail party hosted by your golf pro Anthony Mocklow who will review the next 10 days of golfing events.
Day2: Newport R.H. Your golf clubs will be waiting for you to be transported to the Newport National Golf Course. This course is reminiscent of the links courses in Ireland and Scotland. The course is set against the dramatic views of the Atlantic Ocean and Sakonnet Passage. https://newportnational.com/
Day 3 Boston Mass: Today we begin our golf experience 20 mins. south of Boston to the Granite Links Golf Club another upscale links course. The club was named with such national notables as Pebble Beach, TPC Sawgrass, Beth page and Kiawah Island to the 2010 Golf Digest list of the "100 Greatest Public Golf Courses in America!" https://www.granitelinks.com/Club/Scripts/section/section.asp?NS=HP
Day 4: Bar Harbor MA: Enjoy the day discovering the beauty of Bar Harbor
Day 5 Halifax Nova Scotia: Today we enjoy at sunset round at the The Links at Brunello. Stunning vistas laid out on dramatic terrain will give all levels of golfers a challenging experience. https://www.thelinksatbrunello.com
Day 6 and 7- Sharpen your skills and take notes for Anthony's morning golf seminars followed by the afternoon sessions on club fittings by Puma/Cobra golf. You will have the opportunity to order Cobra golf clubs at special discounted rates.
Day 8- Arrival in Bermuda. Welcome to the Port Royal Golf Club, home of the PGA Gland Slam golf event. This is Bermuda's most popular course, which provides breathtaking ocean views and challenging golf. Special Goslings dark and stormy "on course" event. https://www.portroyalgolfcourse.com/
Day 9- Overnight in Bermuda. Optional golf day at Tuckers Point or enjoy the many optional excursions and beautiful beaches in Bermuda.
Day 10- Last day to sit in with Anthony for our golf seminar and order any clubs from Cobra. Tonight we say farewell to all our newly made golfing buddies. A farewell cocktail party hosted by the Bermuda tourist board
Fares
Inside the Veranda Penthouse – $5,598 up to $11,998
O'Life Choice with Air – $1,799 up to $4,499
Cruise Only – $1,299 up to $4,499
***
For information and reservations call +1 888-669-1677 or visit thetravelmechanic.com