MEET KINONA GOLF FOUNDERS DIANNE AND TAMI
Founders Tami and Dianne created KINONA Golf because they quickly realized that most women's golf clothing on the market was unflattering. No matter what your shape or size, every woman deserves to feel great on and off the course. That's where KINONA Sport comes in.
Can you tell me a little bit about yourself? Why did you start Kinona Golf? 
Dianne and I met as product managers at Eddie Bauer six years ago. We became very good friends. Together we'd travel to factories in China, Hong Kong, Thailand, Singapore, The Philippines, India, and Sri Lanka, often just staying a night in each location so we could get back to our families ASAP.While we'd like to say that these trips to middle-of-nowhere factories always went according to plan, there were plenty of what we'll call "colorful" moments.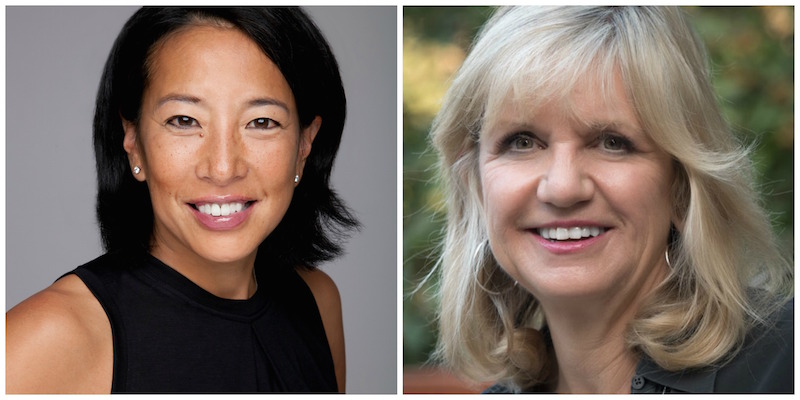 KINONA would never exist if we didn't hate our golf clothes together, too. Every time we went golfing we hated our clothing options. We hated that we were spending a lot of money on clothing that was uninspiring.
We decided we had the skill set and fortitude to quit complaining about how much we hated our golf clothes and actually make something happen. It was a now-or-never moment, and we decided to take the leap. We knew how to make products and reach into the factories because we already had connections, so we only really needed to focus on marketing the clothing. 
Dianne deals with the apparel production side with factories and technical product development. I focus on merchandise and marketing aspect of our company. 
What differentiates you from other companies? What was the goal in making these clothes?
We did some digging, and learned that most women golfers are in their mid-forties. That's right about when the female body starts shifting — a reality that golf apparel has overlooked for far too long. The more we got to talking with other women, the more we realized that we weren't alone in this discomfort. Boxy polos? Curious colorways and patterns? No one was loving them. So we set out to design apparel that "gets" women like us. Our bodies are changing, yet we aren't stopping. We're golfing, then grabbing lunch, running errands, heading into a meeting, you name it. No matter our shape or size, we want to feel great doing it all.
We really count our shaping details that we have incorporated into the product. All of the pants have lighter waist bands and are higher in the back than the front, so when you pick up a golf ball on the ground you won't flash anybody. We offer sleeveless tops with mesh, so if you have a hot flash you won't be sweating because it allows you to circulate air and keep you cool through the round. This is our main defining feature and we are trying to have fun with the brand. We are want to help empower other women.
What is your favorite piece from your golf collection?
The Make Waves Skort design is inspired by vintage clothing, so it has a little bit of that mod 60s vibe in mind. It has a bold print with fun patterns and its just super flattering for anyone who wears it. You can "make waves" when you wear it!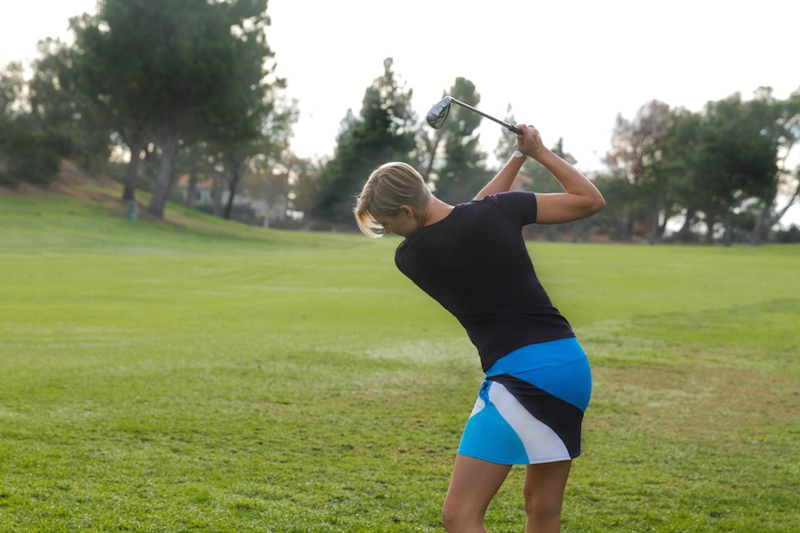 We are really trying to respect the rules and dress code, but absolutely push the limit of what we want to wear and to be comfortable in it, while look great doing it. 
What are your future plans for your company? Where do you see it going in the next few years?
We definitely are on a growth projection right now. We initially focused on women golfers, but we want to expand our horizons even further, maybe into athletic wear. The other opportunity we have to expand is going overseas. Diane and I have the history and senior level positions that we need to scale up fast. We have a stable commerce platform too, so if we need to manufacture in a different country we can easily do that.
Are your golf clothes strictly for golfing or can you wear them in everyday life?
Yes, you can go right from the golf course to the grocery store! We have dresses where you can just throw on a cute sweater (or wear it as it is) and walk right into a meeting with your boss. It's the same concept with our pants and most of our tops. They are very versatile and are dressier than other golf clothes available on the market. Our clothes are very appropriate to wear during your life after golf. We need our clothes to allow us to be able to go from point A to point B – why does yoga get to have all the fun?!
We want you to be able to intermix with your regular clothes. It shouldn't be a subset of your wardrobe. We show in our look book a lot of our tops primarily with skinny jeans and flip flops. We want to drive the point that you can go beyond the golf course.
How do you think we can get more women to take up golf?
I think that there is a natural opportunity for women to come into the sport. As kids and parents get much more concern about playing contact sports with the risk of concussion I think golf seems like a good option because it isn't a contact type of sport. 
You're there to be on a team and whatever you can do to make it feel that way is a great thing for the sport. I think that women being able to be more expressive is also part of it. Also, there needs to be more opportunities for people in any socioeconomic area to be able to participate in the game. There are so many life lessons in this sport, such as being accountable for your own scores and learning proper etiquette. You need to learn how to shake a hand for a shot well played. It's great social skills for anyone to learn, but especially for juniors.
Is there anything else you would like to mention about your brand?
Everybody loves our fabric. Unfortunately you can't touch and feel the material when its on the website. We offer a type of fabric that is from the swimwear industry because of my partners background. There is built in compression, which helps with the shaping and provides UV ray protection. You don't have to dry clean these clothes and it's resistant to chlorine and bleach. It's really breathable and high performance and it has a great hand-feel to it.