Golf fashion is always changing and expanding to meet our needs for the latest fashion trends. I came across a company that offers golf outfits that will appeal to any type of golfer. Tail Activewear has been delivering high quality golf apparel for over 40 years and still consistently delivers the newest and trendiest golf outfits.
Tail Activewear has been at the forefront of women's active apparel and brings together performance and fashion with bold colors and designs that flatter a women's figure and gives a distinctive style, so you can look and feel confident on and off the course.
With Tail, a size 2 is a size 2 no matter what collection or piece you are looking at; whether it's a top or bottom. The fabrics they use are second to none and all are designed to offer effective skin protection. Most offer a UPF rating of 40+ or better.
Moisture-wicking is another one of Tail's strong suits; their fabrics tend to rank at the top of the spectrum in performance in this area. They wick moisture away from the body and will exceed your expectations for comfort and dryness.
Here are a few of my favorite pieces from Tail Activewear's golf collection:
Fannie Top
The Fannie Sleeveless Vibrant Bloom Top is crafted from Tail's Performance Jersey fabric (91% Polyester/9% Spandex). It features a mock neck and zippered placket. The vibrant floral print with a mixture of light and dark colors adds a slimming look to this top which pairs well with Tail's Bowman skort. This outfit is perfect for the spring! Leave it untucked for a classic, sultry look.
Charisma Print Hailee Top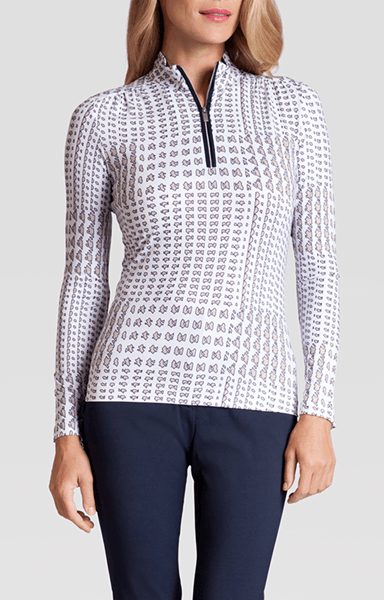 Another beautiful piece from Tail's golf collection. This doubled brush jersey has shirring at the shoulders with a mock neck and zipper. The Charisma print is a unique and eye-catching look that you can wear at the course, at the gym or out to lunch. This top pairs perfectly with the Mulligan Midnight Navy Boot Cut Pant.
Perla Jacket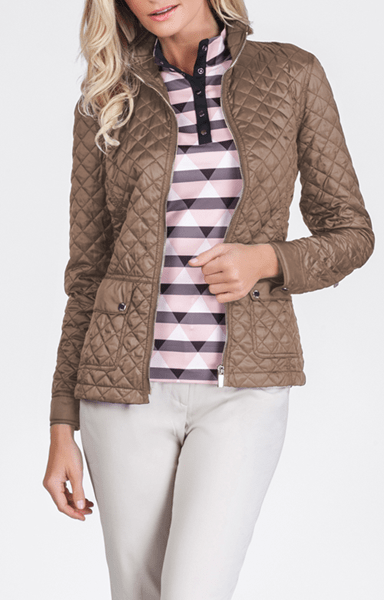 The Womens Perla Jacket is designed to perform as well as the ladies who wear them. This has to be my absolute FAVORITE piece from their collection. First, I love the truffle/bronze color on this jacket. It can match almost anything you wear in your closet. It's not only great to stay warm on the course but you can wear it anywhere! This is especially important for those in the New England area. It features a quilted riptop fabric and snapflap pockets on both sides of the jacket. Rock this jacket and you'll be stylin'
Kylie Pant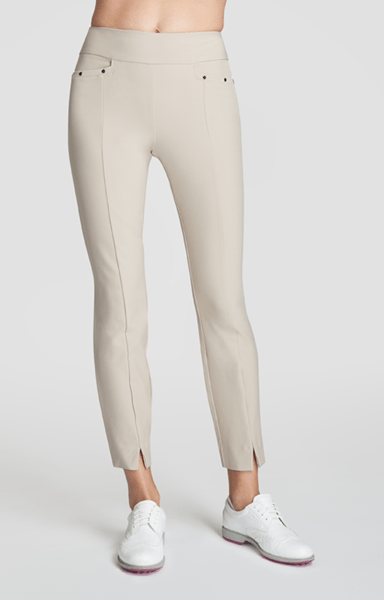 For a sleeker take on the classic dress pant, the Kylie Pant is the perfect option for you. Look classy on and off the golf course. The modern fit pull-on will flatter your figure and the bi-stretch woven material will have you feeling comfortable. It also features two front and back pockets.