Introducing Sparkle Skirts!
From basic black to fun prints and glittery sequins, Sparkle Skirts bring the fun in golf fashion.
Sparkle Skirts is a new apparel company from Florida that features a collection of skirts and skorts — offering plenty of choices from running, golf and hiking. Everyone can find something that fits their needs and body type.
Their golf collection skirts features CasualFit, SwingStyle and SlimCut that are unique, comfortable and fun! Aspiring LPGA stars Alexandria Jacobsen and Natalie Goodson are two pros currently representing SparkleSkirts.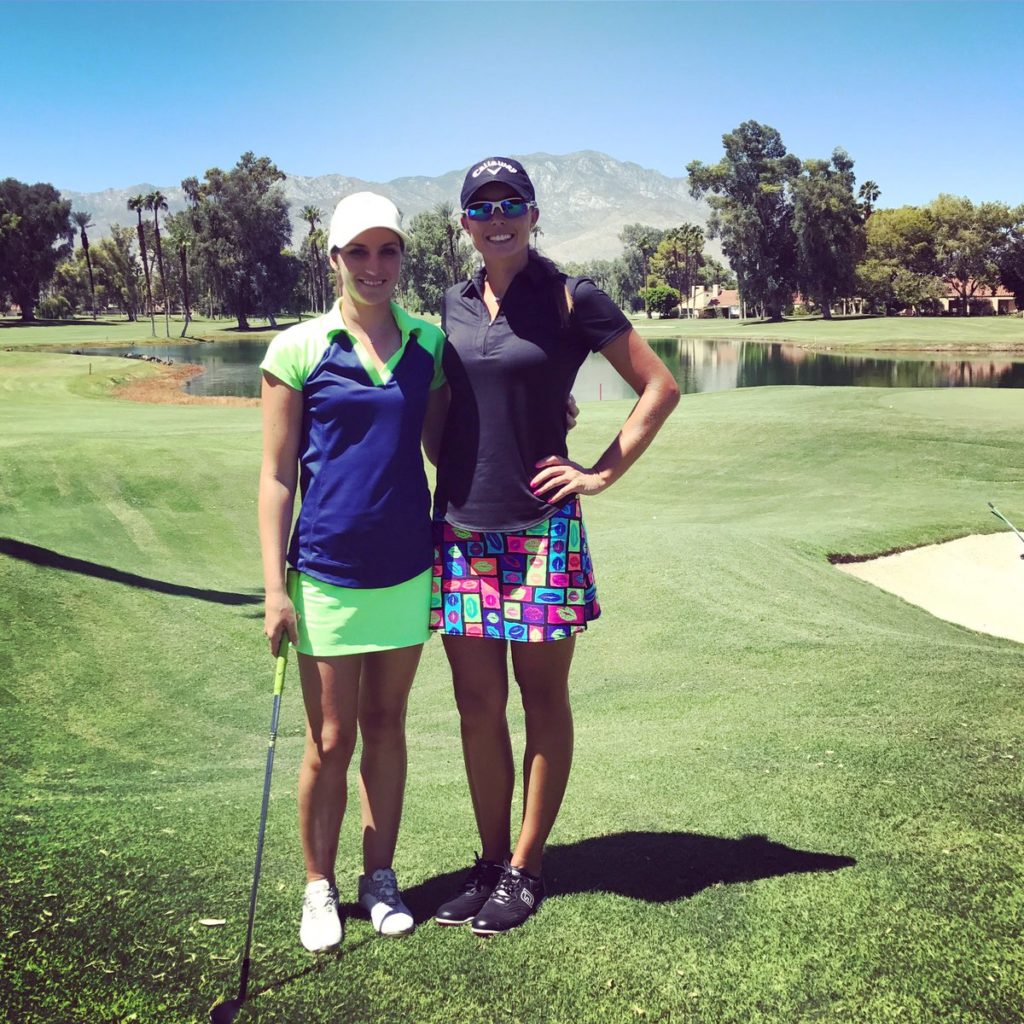 SparkleSkirts allow for comfortable movement as you set up your tee and fluid motion as you swing. The 6×6″ pockets within the built-in, anti-ride shorts are perfect for holding your golf balls, tees, or score card. They also have SparkleLight skirts that you can pull on over your own favorite shorts, just to add some glam or to cover-up your spandexed bum.
HotLips SwingStyle
HotLips SwingStyle was my favorite pick of the whole golf collection, and let me tell you why.
This vibrant, neon lipstick print is eye-catching and very cute. It's something that's going to appeal to the younger crowd of women golfers.
Also, the spandex shorts under the skirt provides some serious comfort that regular skirts don't give you otherwise. It gives me the security of knowing I won't be showing off my bum on a windy day on the golf course.
The other part I LOVE about this skirt is that you can stash your ID, car keys, cash and your IPhone in the 12″ upper waistband. Pair this colorful skirt with SparkleSkirts matching accessories for a completed look.
The SparkleSkirt Difference
What makes SparkleSkirts better than other activewear skirts?
The patent-pending undershorts are guaranteed not to ride up. Whether you're strolling around the block or approaching mile 26, our anti-ride running shorts are certain to keep you comfortable and confident no matter where your athletic endeavors or adventures take you.
Three spacious pockets allow you to store all your essentials whether you're training, spending a day at the theme parks, or traveling on vacation.
These USA made running skirts are available in sizes 3XS to 3XL. SparkleSkirts will even adjust the cuffs on your wicking running shorts to ensure the perfect fit if your body shape requires different undershorts than your skirt size. We guarantee we will make it comfortably fit you!
In addition to the large selection of vibrant and colorful golf and running skirts, which will really show off your unique style on the golf course, SparkleSkirts offers custom activewear skirts for individuals and teams, too!
About SparkleSkirts
SparkleSkirts began in 2008 when Leah Powell whipped up some sparkly skirts for her running group to wear at the inaugural Princess Half Marathon at Walt Disney World. In that race – and every race since – people have asked: "Where did you get those skirts?". That's when her passion for both creativity and fitness shifted into high gear!