GymShark's Flex Leggings and Sports Bra is Perfect for the Golf Range
Gymshark is a fitness apparel and accessories brand, manufacturer & online retailer based in the United Kingdom, supported by over 3 million highly engaged customers in 131 countries.
Created in 2012 by teenager Ben Francis and a group of his high-school friends, Gymshark has grown from a screen printing operation in a garage, into one of the fastest growing and most recognizable brands in fitness. This growth comes from a devotion to producing innovative, effective performance wear and an ever-expanding social presence.
The company has a diverse selection of gym clothes for both men and women, including stringers, tank tops, t-shirts, pants, hoodies, shorts, and leggings.
Gymshark also sells various fitness accessories, including bags, headwear, underwear, socks, lifting straps, and iPhone cases. At the Gymshark.com online store, customers can search for workout clothing based on the size, style, color, and type.
If you haven't seen a pair of these floating around Instagram, then I don't know where you're looking. It's hardly surprising though, with their extraordinary butt shaping abilities, and especially when they're modeled by the likes of Nikki Blackketter, that everyone want's / has a pair.
The name says it all. These leggings are perfect for flexing, and to make matters better, they're totally squat-proof. That's right … there's actually leggings out there that aren't see through! So, if you're looking for a reliable yet bum extenuating pair of leggings that you can lift and squat in, you've come to the right place.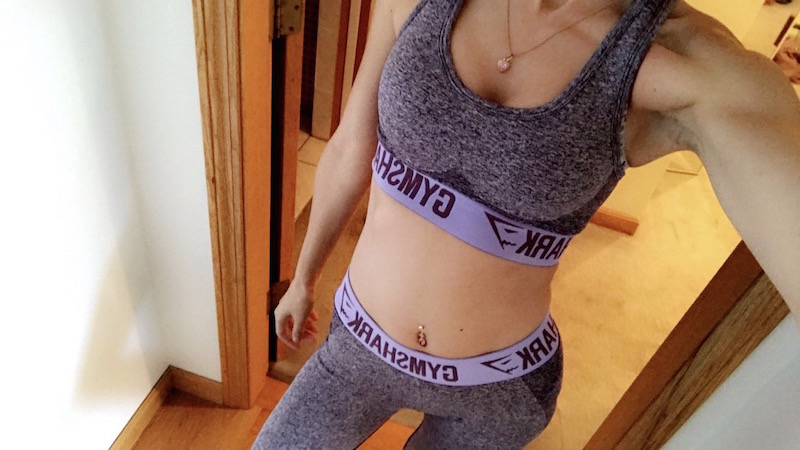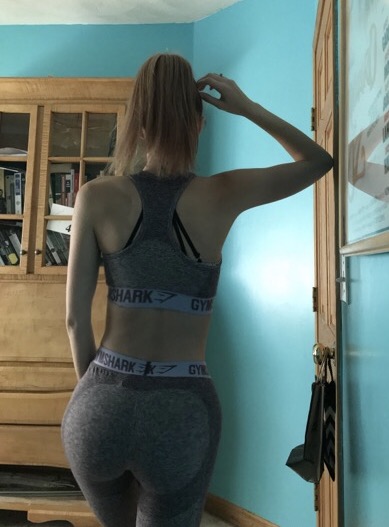 I wanted to jump on the GymShark bandwagon so I bought of a  pair of purple flex leggings and a matching sports bra to go with it. Although it's on the pricier side, it's completely worth the investment. It makes your bum look great, even if you aren't the biggest of the bunch. I feel comfortable and stylish wearing their clothing.
Can't decide if you want to buy? Below, I cover how Gymshark's Fit Leggings look, feel, fit, and perform, along with some pros and cons, so you can decide if these leggings are a good match for you. I'm going to give you a little more detail on what to expect when you decide to jump on the GymShark bandwagon as well.
LEGGINGS
The leggings are the most popular clothing piece of the entire brand. Let me tell you why. As I mention above, these leggings just fit, feel and perform amazing for only $30 I think it's a steal. Let's talk about the colour contouring on these leggings. The contrast between the two shades of grey / purple does so much for the booty – as you would expect. The dark shade right under your glutes and surrounding it do well to make your bum appear more lifted.
SHIRTS
Gymshark's clothes are specially designed to accentuate a fit and toned body. The company sells two main styles of t-shirts: The Luxe and Centurion. Both shirts offer a tighter fit while still allowing wearers to move freely and keep cool.
The shirts are tapered and more fitted than an average shirt. The Luxe shirts are longer than a normal-length tee and have a tapered middle, while the Centurion shirts have extra space around the middle and upper parts of the shirt.
All shirts are made with "high grade cotton." Most shirts have a mix of 92% cotton and 8% elastene.
SIZING
True to size. I wear a size XS in these leggings and they fit me flawlessly. So if you're petite and under 5ft4 then I suggest perhaps going for an XS.
FIT
The flex leggings are made from a polyamide,  polyester,  and elastane, to be precise. This essentially just makes them feel luxuriously soft and fit seamlessly. With an elasticated performance waistband that sits just below the waist, you don't have to spend half your workout pulling up your trousers. They have a physique contouring design, that flatters the leg and allows the booty to pop. I love wearing this outfit to the golf range because I have the flexibility I need and want when I'm swinging my driver.
GymShark is a great brand and I love how the leggings and sports bra feels when I'm practicing at the golf range. It performs well and it isn't see-through and it's a thicn enough material where you won't have to keep pulling your leggings up. Definitely worth checking out.