5 Best Women's Golf Shoes 2019
Today's golf shoes are built on so much more than style, although that's still an important aspect. From complex foam cushioning, proprietary traction systems and GORE-TEX waterproofing – women's golf shoes today are built to provide you with as much support as possible so you can play the game knowing that your golf shoes are giving you the comfort and performance you need.
Below are a few of the best women's golf shoes 2019:
LAMBDA | Lambdagolf.com
VENEZIA GOLD | $350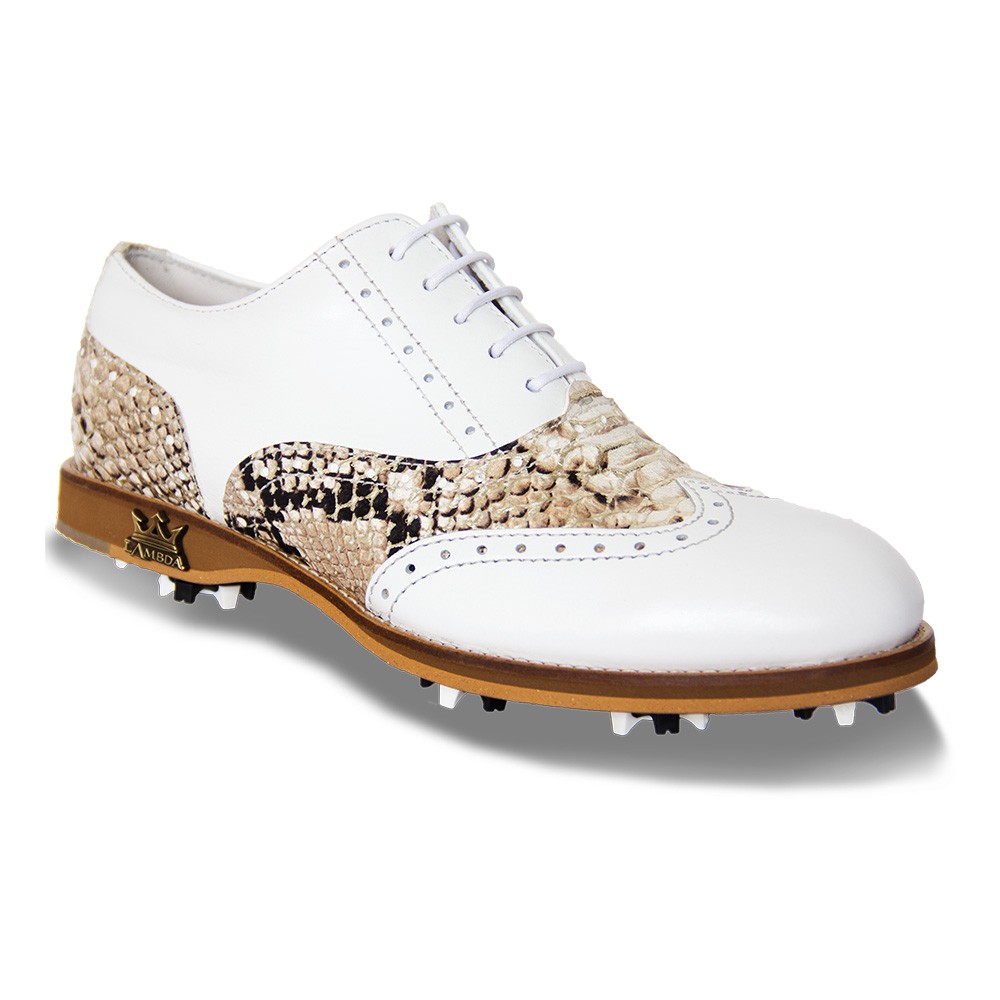 You probably haven't heard of Lambda before, but they're a unique golf shoe company that truly offers you the best women's golf shoes on the market, although they aren't cheap. All of Lambda's golf shoes are hand-made in Portugal with waterproof, genuine leather. Impressive, no?
The Venezia Gold is my favorite women's golf shoe they have for sale. It provides a classic look, with a modern touch. It's best features are the Latex foot bed to provide you with comfort and the acetate insert on the sole and heel for shock absorption impact on knees, hips and back.
The design is beautiful, and though they may look like that might be uncomfortable, many people who have purchased these shoes say the opposite! The shoe doesn't require you to "break them in," so no need to worry about getting blisters on your feet while walking the course. There's also an option on their website to create a custom shoe.
PUMA | Pumagolf.com
IGNITE BLAZE SPORT DISC | $140.00
The Puma Women's Blaze showcases a blend of conventional golfing style and more contemporary touches. Ignite cushioning and innovative DISC closure technology unite for a snazzy cleated shoe. The shoe is lightweight and flexible, very comfortable to wear for long periods of time.
One of the most impressive features in this shoe is the PWRCOOL provided by Outlast – this technology is designed to regulate the temperature of your foot, making use of phase change materials that absorb, store and release heat for thermal comfort. This means the shoe should keep you warmer when it's cold and cooler when it's hot – pretty cool stuff! It's a perfect blend of style and performance for a great price.
GO GOLF ELITE V.2- ADJUST | $100.00
When Skechers shipped this pair of golf shoes to me I wasn't sure what to expect. It seemed plain, and I'm so used to the uncomfortable feeling I get when I have to break-in new shoes. Luckily, I was wrong!
The orangish-pink splash of color is just enough to add a little color to your outfit. So, the style isn't too bad, but what really made me love these golf shoes is the comfortability. I felt like I was walking on a cloud, and for the first time in a while my feet weren't red and throbbing from those unsupported golf shoes that only has value for its style.
Inspired by their Skechers GOwalk series, they created the Go Golf Elite 2 that combines performance technology with a classic leather lace-up design. It offers a clean, contemporary look and the stitching and small holes on the side of the shoe provide visual interest. The sole is relatively stiff and will provide you with a stable base for your golf swing.
For great traction and comfort on the course for only $100, this is soo worth the buy.
FJ SPORT SL | $139.99
FJ golf shoes engineered specifically for women, lightweight & breathable yet waterproof and fiercely performance-based. It offers athletic styling, lightweight performance, and spikeless golf soles. It also provides supreme comfort, and impressively blends this with excellent support.
The shoes have been made with FootJoy's BreathEasy Engineered Sport Mesh uppers, which are light-weight and breathable. The soft EVA midsole/outsole with strategically placed TPU traction inserts allow full range of motion control with enhance stability. The massaging foot-bed provides invigorating gentle massage.

FootJoy Tailored Collection Women Golf Shoes in White Patent / Ocean Blue
G/FORE | Gfore.com
For a while now, G/Fore has been well known for their colorful golf gloves. Now it's time to look at their golf shoe collection, because it is just fabulous for the modern, chic golfer. Jumping into the footwear space, G/Fore continued to bring fashion and flair to golf.
As stylish as it is comfortable, the Gallivanter IV.0 golf shoe combines an athletic fit with premium waterproof leather in signature G/FORE colourways. This style features a printed trompe-l'oeil pattern on the full grain leather upper.
Personally, I enjoy the two-tone color of the spikes at the bottom of the shoe. The simple, yet quaint design on the front of the foot is eloquent and classy.