A Big Change For The U.S. Solheim Cup Team
When the Rioch Women's British Open came to a close on Sunday night, U.S. Solheim Cup Captain Juli Inkster announced her final team for the tournament.
Eight players make the U.S. team — two make the team through Rolex World Ranking, and two players are chosen through captain's picks.
However, every year, the captain of each team writes down a name as an "alternate" just in case someone gets injured or withdraws from the tournament at the last second. Only the captains knows the pick, one that's usually a non-issue.
But when Jessica Korda announced that she wouldn't be able to play in the Solheim Cup due to a left forearm injury, Inkster's alternate pick suddenly became very important.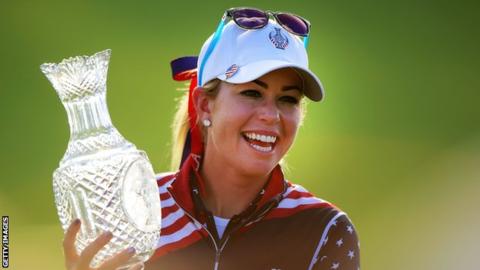 That important name is Paula Creamer who will be taking Korda's place in the event.
"You know what, to tell you the truth, I really didn't have anybody else in mind," said Inkster of her choice.
The former world number two sunk the winning putt for the Americans two years ago. She has a 14-8-5 playing record, and her 16.5-point average is tied for the third-best total in U.S. team history.
In addition to her match-play experience, Creamer has been one of the more recognizable American names on the LPGA Tour for almost a decade. She has 10 career Tour victories and has 15 top-10 finishes in majors, including a win at the 2010 U.S. Women's Open.
Des Moines Country Club, in Iowa, hosts the event, which runs from August 18-20. For a full list of the U.S. Solheim Cup team visit LPGA.com
Please follow and like us: