Consider these astounding facts as we move into the 2017 Solheim Cup tournament: in 1990, the year of the inaugural Solheim Cup, Golf Channel was five years from launch, Annika Sõrenstam wasn't quite ready to turn pro, the LPGA was still not at its peak and Michelle Wie was only one-years-old.
Wow, am I right?
However, many things have changed in the golf world since then. Golf Channel and NBC Sports are now providing 30+ hours of on-course coverage and Sörenstam, who has played in 8 editions of the Solheim Cup, is Team Europe's Captain.
This is all because Karsten Solheim had a vision that would change the way people viewed women's golf. He worked as an engineer at General Electric when he took up golf at the age of 42 and brought science to the game, coming up with the idea of perimeter weighting eventually establishing the revolutionary equipment company we all know as PING.
A strong supporter of women's golf and the LPGA, Solheim saw the rise in popularity of the Ryder Cup and decided he would put his name and his money behind the women's version of the Ryder Cup. In five brief months, the Solheim Cup was conceived, planned and staged for the first time.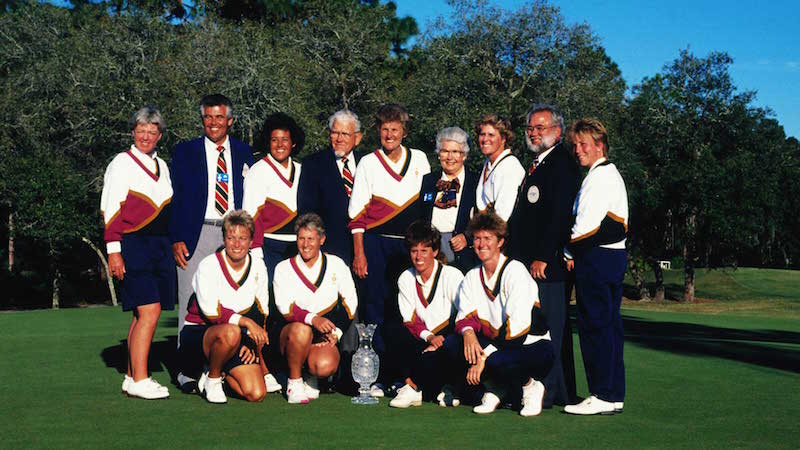 Although Karsten Solheim made sure to record the 1st Solheim Cup, you won't be able to find it online. The one thing we can rely on are the memories that fueled the vision for the Solheim Cup. Karsten and Louise Solheim saw immediately the potential for a women's version of the Ryder Cup. European and American players alike bought in and engaged with fiver.
"The crowds weren't very large but they were enthusiastic and patriotic, especially the Europeans fans who made the trip, which gave us a clue into just how much potential an event like this had," says John Solheim. "It wasn't televised and there was no Internet, but Karsten did have it videotaped and we produced an hour-long highlight film. The players realized they were part of something special and set their sights on being a member of the next team."
Since 2000, the U.S. has won the Solheim Cup five times and Europe four, with the Americans holding an overall 9-5 advantage.
The lucky fans are heading through the gates of Des Moines Golf and Country Club to watch Monday's practice rounds and ready themselves for the frenzy that begins Friday at 8:10am local time.
This is one of the biggest moments for women's golf. This tournament has contributed greatly to the growth of the LPGA. I hope you all take the time to watch these amazing women compete for the coveted Solheim Cup trophy this week.
Please follow and like us: