Lexi Thompson Has a Rough Day at Ana Inspiration
Last April, Lexi Thompson lost the ANA inspiration because of a viewer's call-in saying that she improperly moved the ball. That four-stroke penalty Thompson received during the final round of the year's first major had cost her the win.
Here's what happened:
An unidentified viewer emailed officials during the final round of the ANA about a possible infraction regarding the way Thompson replaced her ball on a 1-foot putt during the third round. She was notified of her penalty while walking to the 13th tee on Sunday afternoon. Her two-stroke lead was gone and she lost the tournament, even after signing her scorecard.
She was made aware of the rule change shortly after she finished play at the QBE Shootout in Naples, Fla., where she tied for fourth with partner Tony Finau. Thompson would have won her second major by four instead of losing in a playoff. So, of course she weighed in on the rule changes from the USGA and R&A on Monday: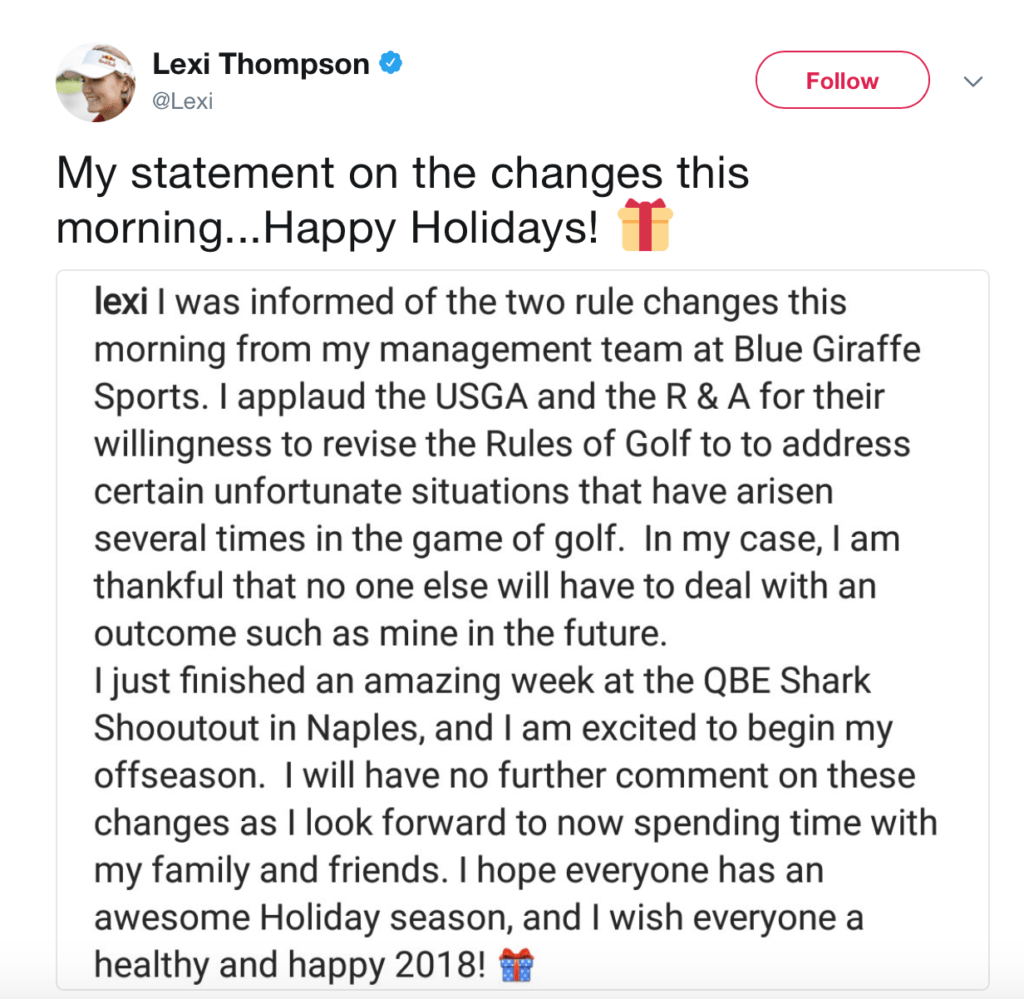 Although, what happened to her was unfair and bewildered many people in the golf world, she is thankful that no player in the future will have to deal with something like this again.
As of January 1, 2018, the professional tours will no longer consider reports of rules violations by viewers.
In addition, the rules will be modified to eliminate the two-stroke penalty for failing to include a penalty on a scorecard where the player is unaware of the penalty. This rule change alone would have saved Thompson last April.
Finally, common sense has prevailed.
It's odd that an individual outside of the sport's jurisdiction with no connection to the event as a player or official might have a role in the officiation process and thus determine results. This is the unfortunate outcome of a growing televised viewership and the increased connectivity resulting from social media and technology. The USGA finally corrected a rule that shouldn't have been there in the first place.
Several pro golfers had thoughts on this as well, which they took to social media.
https://twitter.com/LukeDonald/status/940219206502625280
Here are two quotes from Lincicome and Lang on the issue:
"I think it's about time. So many people have suffered and lost out on majors because of it. Just happens that they finally did the right thing." — Brittany Lincicome
"First off, I think it's fantastic. No other sport do they allow call-ins. What happened to Lexi, that was ridiculous. With that being said, the more popular you are, the better player you are, the more likely you are going to be on TV … why do they have to have the safety net of (a rules official) watching? Is that really necessary?" – Brittany Lang
Please follow and like us: